Archive for the 'Cleaning Grout' Category
By On December 22, 2015
No Comments
Grout, laid in between the tiles is a porous material. It poses frequent challenges to routine cleaning and can often be the initiating factors of a client seeking our support.
Put simply, during routine cleaning of stone tiles, dirt can be pushed into the recessed grout lines. This dirt can sit in the lines and become ingrained.
Mould and mildew can also cause discolouration of grout lines. Even the best-available shop-purchased cleaning products will provide unsatisfactory results. The following information will leave you well-informed about our services for cleaning grout.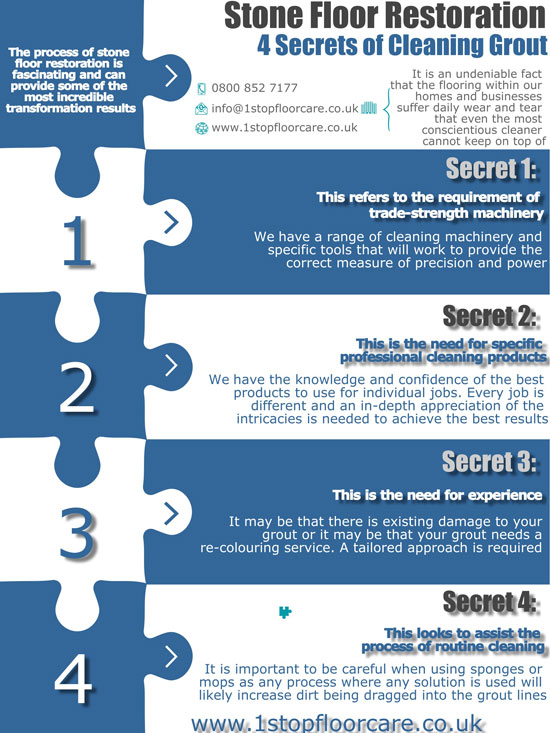 We will leave you with information and advice on product formulations and techniques that will leave your tile and grout looking cleaner for longer. Please call today on 0800 852 7177.
By On September 24, 2014
No Comments
Sandstone is a classic sedimentary rock that is really distinct and unique. It is a natural stone so no two tiles are exactly the same. This provides an opportunity for distinctive design when the stone floor is being laid and it will undoubtedly offer a really timeless-looking finish.
The great thing about sandstone tiles is that they can be restored and re-polished if, over time, the floor is ingrained with dirt or has become stained. It is inevitable that natural stone tiles are more prone to staining and have limited chemical resistance, which is why it is pivotal to the overall success of the restoration project that specialist knowledge of this tile type is used.
The initial images of this Indian sandstone floor in Leyland show how the tiles and grout had become grubby. The tiled floor had lost its lustre and the detailed and intricate patterning was no longer visible through this build-up. The above picture also shows a test area that we completed prior to the full restoration of this floor and the difference it made!
Our specialist floor restoration process quickly and efficiently lifted this dirt and grime. Stone-specific product formulations, coupled with our industrial machinery meant that the tiles were thoroughly cleaned, skilfully and carefully, providing a hygienically clean floor.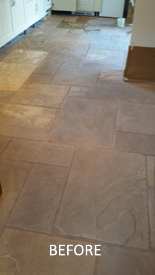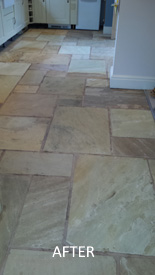 Natural stone requires sealing to offer resistance against dirt and further staining. This is the best way to prevent stains as natural stone is porous and quick to absorb any liquid spillages. A top-quality stone sealant repels spills on the surface, providing time for it to be wiped away. The liquid then has less opportunity to penetrate through the stone.
We offered our client information about routine cleaning of her restored stone flooring and she was really impressed at the results that we achieved. She commented on the detail of the stone tiles that was now revealed as she could not remember the last time her floor looked this good.
If you would like to find out more about the services we offer to clean and restore sandstone floor tiles we invite you to call on 01257 270775. We are happy to provide information and advice.
By On April 23, 2014
No Comments
Grout is a porous material; it is often found that dirt ingrains deeply into the grout lines of any stone flooring. This is unsightly and is often caused by dirt being pushed and collected into the lines of grout. There are a vast amount of grout cleaning products available that are more than likely to offer substandard results.
We were invited to restore these marble tiles in Birkenhead. The home owner was getting increasingly frustrated with the dull appearance of the stone tiles and for the increasingly dirty grout between the tiles. They had tried so many products that had never been able to offer the gleaming results that can be achieved with our professional restoration service.
We have industrial strength, eco-friendly products and solutions that ensure that the existing grout is not damaged. Many cleaning products are incredibly acidic and a lot should not be used with natural stone tiles such as marble, limestone or travertine.
So our in-depth understanding of the best products available is imperative to the overall success of our work. Our trade machinery and tools on this job allowed us the confidence that we can achieve unrivalled results for each and every client we work for.
We have built up a range of experience in dealing with staining and dirt build-up. Different grout colours and types provide us with individual challenges the light colouration of the grout on this job meant that we were required to pool our knowledge to achieve the best-possible results.
We left our client with detail of how best to approach routine cleaning. Dirt particles and moisture are a winning formula for quickly soiled grout. This marble floor was left both hygienically clean and strikingly attractive.
If you have any questions about cleaning grout please call Ian on 01257 270775.