Archive for the 'Limestone Floor Cleaning' Category
By On August 1, 2016
No Comments
There are certain images of limestone where you can instantly recognise it. There are, however, variations where they are unrecognisable as this tile type. That is the beauty of natural stone as it can be carefully selected to create an individual style. How can this be done?
With different tile shapes
With different tile sizes
With different grout colours
With different sized grout lines
With different tile designs
Limestone is recognised for its quality, durability, appearance and toughness. We find it incredible how different applications are now being used to create bespoke spaces.
Once selected, your limestone flooring should be regularly maintained. Specific products are available that will assist this process and will offer a solution to daily wear and tear. Natural stone requires cleaning, however, it is important that the cleaning solution does not strip back any of the seal applied to the surface.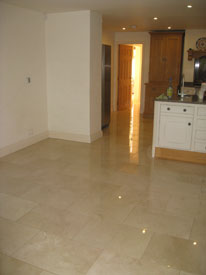 Effectively your chosen product should work to compliment your stone sealer. Are you using a steam cleaner? Our advice is to stop. Why? Because the steaming process lifts dirt onto the pad which is then carried along the tile floors as you clean.
Along the way dirt and particles are left in grout lines and these can create further problems. Once dry, the particles can then be moved and can work as an abrasive. The dirt can also ingrain into the grout lines, leaving them look unsightly.
Stone Cleaning Top Tip:
It is always recommended that you sweep or vacuum up prior to applying any spray or cleaner to your limestone floor.
It may be that you are looking for a different finish. Our stone restoration services allows us to grind the surface of the stone so that it offers a more polished appearance. These images show an example of this. Call today on 0800 852 7177 to find out more.
By On August 16, 2013
No Comments
Limestone is a luxurious and high quality natural stone; it is suitable for bathrooms, counter tops and floors. It is a hugely popular stone choice and stunning when looked after correctly.
This porous natural stone requires expert knowledge to achieve the best possible and long lasting restoration results. It is likely that once your beautiful limestone flooring is laid that it will have experience a variety factors that may damage the floor tiles leaving them scuffed, scratched, stained or dull.
We are enthusiastic and passionate about our approach to cleaning limestone. We have undertaken a number of limestone restoration jobs throughout Blackburn and the surrounding areas of Lancashire.
Limestone Cleaning Process
Step 1: We inspect your limestone floor; this is to identify the nature of the work required and limitations of stain removal and restoration, if any. This inspection will allow us to provide you with an accurate quotation for the required work. This is offered with no obligation and we are happy to discuss all aspects of the job prior to work commencing.
Step 2: As routine; we protect all walls, skirting and furniture. We realise this is a very important part of the process and provides assurance that you are dealing with a professional company who will treat your home or business with respect.
Step 3: All dirt, soil and dry particles are removed.
Step 4: A pre-mixed cleaning solution is applied; this is where experience is vital. Each stone type is individual and requires in-depth understanding of natural stone. Damage can be used if incorrect cleaning solutions and methods are employed.
Step 5: Industrial rotary cleaning machines are then used to agitate the solution. These manage to reach all edges and corners, providing a seamlessly cleaned stone floor. The floor is then rinsed.
Step 6: The cleaning process may require repeating, but once done this has been completed, the stone is then thoroughly dried. We have invested in fast-drying machinery which hugely reduces drying times and disruption to your home or business.
Step 7: The stone polishing process is then completed, leaving stone flooring smooth and reflective. Diamond encrusted rotary pads reducing from course pads to very fine pads, offering the high-sheen and polished finish.
** Please note that we are able to offer a polished or honed finish for your Limestone Tiles: we will fully discuss your desired finish prior to starting the work **
Step 8: Sealing; a stone-specific sealer is then applied by hand to the tiles. This is a crucial part of the process; this penetrates below the surface of the stone and grout and repels liquid spillages.
We look to achieve unrivalled finishes whist offering high-levels of customer service at competitive prices. We have worked hard to build up a great local reputation with has benefited us with substantial repeat custom and recommendations.
The two top pictures show the Limestone flooring on arrival and the bottom two pictures show the tiles when we left. This customer in Blackburn wanted a high shine on her limestone tiles and was so pleased with the results we were able to achieve.
Once the work is completed we will discuss a regular maintenance cleaning programme; leaving you with information and knowledge to ensure the results we provide are long-lasting.
We ask you to contact Ian on 01257 270775 with any limestone cleaning enquiries.