Archive for the 'Oak Floor Restoration' Category
By On December 10, 2013
No Comments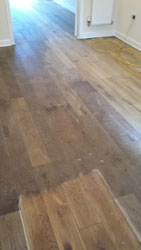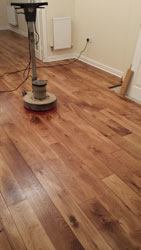 We received a call from this client who had just purchased a new house which they were looking to renovate. Although they liked the flooring that was laid in the house, both the oak floor and the travertine tiles were incredibly damaged.
The wood flooring was scratched, stained and had paint splatters on from where the rooms had been decorated without protecting the floors. The travertine floor looked dull and had clearly not received any kind of treatment or care in the years that they had been laid.
It was a great opportunity to take on the project as, with our years of experience, we could visualise what the restoration results would be like and the drastic improvement that would be achievable.
We were able to provide a competitive price and it was a chance to combine our floor care services.
Our experience in both stone restoration and floor sanding means that we are true experts in both fields.
We are intensely passionate about floor restoration and have invested heavily in both training and machinery to confidently offer brilliant results without fail.
The images show how the stone tiles and wood floor were transformed.
After the project was completed we offered the client detail about regular cleaning of their floors that they said would help them a lot.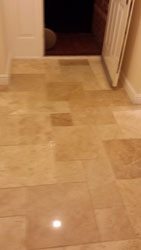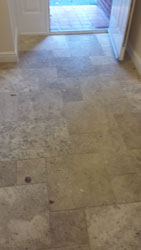 They continued with the renovation, pleased that they had chosen to restore their flooring rather than replace it.
The results speak for themselves and we invite you to make contact if you have any questions about floor restoration. You can call us on 01257 270775 or you can contact us via our contact form.
Please also feel free to register to receive a free survey by completing the submission form found at the top of our 'Home' page.