Archive for the 'Sandstone Floor Cleaning' Category
By On September 24, 2014
No Comments
Sandstone is a classic sedimentary rock that is really distinct and unique. It is a natural stone so no two tiles are exactly the same. This provides an opportunity for distinctive design when the stone floor is being laid and it will undoubtedly offer a really timeless-looking finish.
The great thing about sandstone tiles is that they can be restored and re-polished if, over time, the floor is ingrained with dirt or has become stained. It is inevitable that natural stone tiles are more prone to staining and have limited chemical resistance, which is why it is pivotal to the overall success of the restoration project that specialist knowledge of this tile type is used.
The initial images of this Indian sandstone floor in Leyland show how the tiles and grout had become grubby. The tiled floor had lost its lustre and the detailed and intricate patterning was no longer visible through this build-up. The above picture also shows a test area that we completed prior to the full restoration of this floor and the difference it made!
Our specialist floor restoration process quickly and efficiently lifted this dirt and grime. Stone-specific product formulations, coupled with our industrial machinery meant that the tiles were thoroughly cleaned, skilfully and carefully, providing a hygienically clean floor.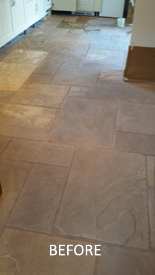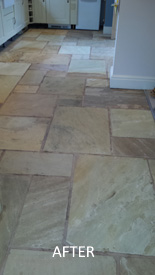 Natural stone requires sealing to offer resistance against dirt and further staining. This is the best way to prevent stains as natural stone is porous and quick to absorb any liquid spillages. A top-quality stone sealant repels spills on the surface, providing time for it to be wiped away. The liquid then has less opportunity to penetrate through the stone.
We offered our client information about routine cleaning of her restored stone flooring and she was really impressed at the results that we achieved. She commented on the detail of the stone tiles that was now revealed as she could not remember the last time her floor looked this good.
If you would like to find out more about the services we offer to clean and restore sandstone floor tiles we invite you to call on 01257 270775. We are happy to provide information and advice.
By On November 27, 2013
No Comments
Indian sandstone floor tiles are incredibly beautiful and create a statement for any home. We were invited to restore this sandstone flooring in West Lancashire. Through advice previously received, the owner was led to believe that the drab and dirty stone floor was meant to look like this.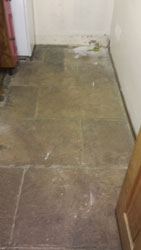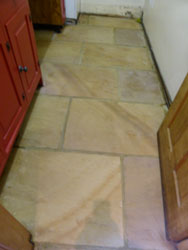 After our intense stripping and deep cleaning processes the sandstone tiles took on an incredible new lease of life. The homeowner really could not believe what the restored tiles looked like because their natural beauty and pattern had been hidden under years and years of dirt and grime.
The floor was then sealed with an impregnating sealer which will keep the floor looking this good for years to come. This is applied by hand to ensure even coverage. The before and after images provide proof of the transformation that we were able to achieve and is testament to the exquisiteness of sandstone.
Cleaning sandstone is an incredible process and 1 Stop Floor Care are best-equipped to deal with the stone restoration process. We have industrial machinery, time-served knowledge and trade-strength products that offer the superior finish required.
Part of our service is building on our local reputation for providing brilliant stone cleaning and floor care. From the point of your enquiry to delivering your sandstone restoration project; we will endeavour to keep you well-informed and provide you assurance that you are dealing with professionals.
If you have any questions or would like to discuss any aspect of our services please call us on 01257 270775. We hope that you agree the before and after images of this incredible project really do speak volumes for the power of restored stone.