Archive for the 'Slate Tiles' Category
By On July 22, 2014
No Comments
An exciting element of our work is the opportunity for us to employ our time-served experience in stone cleaning and restoration. It is likely that if you have the chance to speak to our skilled craftsmen that you will automatically identify their clear passion for what we do and for providing the best level of service. It means so much that we receive such great positive customer feedback and this was evident on completion of these slate flagstones in Ambleside.
Slate flagstones offer an incredibly natural and rustic look to any property. The tiled floors in this home required a deep clean, however, the owner of the property was particularly worried about a large stain. Stain removal on natural stone flooring does require in-depth knowledge and understanding of the individual stone type.
Slate tiles are, through their composition, made up of a number of layers. This has meant that over time slate flooring has been known for peeling or flaking of these delicate layers. Our specialised stone restoration process carefully considers this, whilst achieving unrivalled levels of deep cleaning.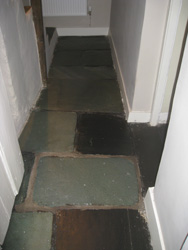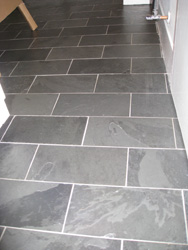 The above images show the area of the stain and how it had naturally soaked into the pores of this beautiful slate flagstone floor. Our trade-strength cleaning formulations allowed us to cut through the stain whilst making sure that there was no damage caused to the stone flooring.
The images show the end result and the stain has clearly been eliminated with no damage to the tile or grout around the original stain. When visiting the owner of this property for our initial inspection; they were fearful that their beautiful stone floor may need replacing. They were truly shocked with the results that we were able to provide.
We continued through the house to offer a full cleaning and restoration service for their tiles. If you have any questions about cleaning stone tiles or stain removal we invite you to call us on 01257 270775.