Archive for the 'Stone Finishes' Category
By On February 22, 2015
No Comments
Through our extensive experience we have learned the importance of using the best available products to compliment our stone restoration services. To make sure our clients are getting the best from their stone floor we feel it important to discuss the requirement of stone sealers.
Natural stone floors are porous in their very make up and therefore, from the point that they are laid requires protecting by a penetrating impregnator. It is important not to get blinded by science but essentially there are two types of protection for stone tiles. Therese are sealers and impregnators.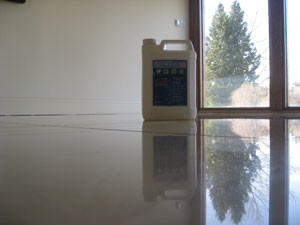 Whilst stone impregnators work to protect the inside structure a stone sealer will shield the surface of the stone tile. An impregnator is known not to alter the colour or texture of the stone, however, a sealer may create a slightly darker tone and will offer a slight shine to the tile.
Both work to safeguard the stone tiles but it is important to remember that if liquid is left on the floor for any prolonged time that it will inevitably infiltrate the sealer and will stain it as a result. The products allow time to dab up the spillage.
Floor protection products need to be periodically reapplied. This will improve the longevity of your stone floor and will offer resistance against mould and mildew in grout lines. If you are unsure of whether your floor requires a reapplication it is best to seek professional advice.
We offer stone sealing services and would invite you to call our friendly staff on 0800 852 7177 to arrange a survey. We work conscientiously to ensure each of our clients receive the best possible standards in customer care.
No two jobs are ever the same and we are passionate about the intricacies of stone floor restoration. Sealing tiles is incredibly important and will not only offer protection but it will improve the overall appearance of your floor tiles and will allow you to enjoy the true beauty of your natural stone floor for longer.
By On May 22, 2014
No Comments
Our stone cleaning and stone restoration blog boasts many images and information about restoring marble floors. We take great pride in our work and the way that we present ourselves and detail via our informative blog.
There is a huge sense of achievement in receiving such positive customer feedback and the influx of enquiries that we receive regularly. This has helped us to build up our existing client base through recommendation and referrals and we are frequently asked to travel further afield due to demand for our services.
The following images show the incredible transformation we achieved with this marble polishing project in Blackpool. Our client had become unsatisfied with the dull appearance of their stone tiles and they asked for us to clean and polish them to a high-shine finish.
Although the images show an instant result; hard work was put in to achieve this! After the tiles were thoroughly cleaned we began using a course-grit sanding paper, working through to a fine-grit paper to achieve the polished look.
The floor tiles were fully sealed to make sure that they were equipped to deal with every day wear and tear and any possible liquid spillages. Stone floor sealing is so important for any natural stone; it can both help your tiles look cleaner for longer and it will work to repel etching, water marks or staining that can easily be caused by any liquid touching the tile.
We hope that you agree that there was a radical improvement in the look and feel of these marble tiles. If you have any questions about what stone finishes can be achieved or want to discuss our stone restoration services we invite you to call 01257 270775 to find out more.