Archive for the 'Stone Polishing' Category
By On June 24, 2014
No Comments
Marble is a metamorphic rock and is by far one of the most recognisable and most popular natural stone. It is striking in its appearance and, once fitted, will look incredible, be durable and will last a lifetime if maintained correctly.
We were invited to provide our comprehensive stone restoration process for these marble tiles in Warrington. The owners of the house were completely renovating the entire property and wanted us to fully clean and polish their marble flooring after the grouting application had left the tiles covered in grout residue.
The stone floor was completely cleaned and then we completed diamond resurfacing to the entire tiled floor. This process is completed by using a graduated range of abrasive pads, slowly grinding down the surface of the tile. This stone polishing process can be used to remove scratches, scuffs and some staining.
Finer and finer grades of abrasive pads were then used to hone the surface to create an incredibly smooth finish. This process repeated delivers a high-gloss shine as showcased in the images. Our clients had specifically requested that they wanted a reflective finish. We discussed the likely additional maintenance that is required for high-shine stone finishes so that they were left well-equipped.
Again, the marble tiles were then fully sealed to protect them further from daily wear and tear. Our clients commented that they did not think the glossy shine we achieved would be possible. They felt that it enhanced the natural beauty of their marble and commented that it set a high standard to which the remaining restoration work had to compliment.
This was another job that confidently showcased the incredible results that can be achieved by cleaning marble. If you have any questions on how to polish marble or our polishing marble services we invite you to call 1 Stop Floor Care on 01257 270775.
By On May 13, 2014
No Comments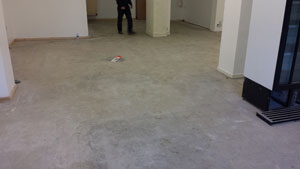 We take on a range of commercial stone cleaning and residential floor cleaning work throughout Lancashire. This enables us to build up an incredible portfolio of floor care work and this, combined with our experience, allows us to build up our reputation as being specialist floor restoration experts.
Terrazzo tiles are a unique stone tile that were originally formed by exposing aggregates and marble chips on the surface of an epoxy resin or concrete. A smooth finish is achieved by polishing the stone's surface.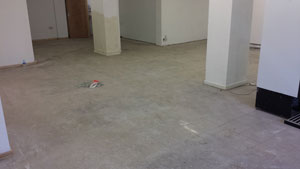 Terrazzo flooring is extremely durable due to its make-up which explains why it is well-suited to a commercial setting. We were invited to restore this Terrazzo floor in Lancashire. The before images show the deteriorated state that the tiles were in prior to our revolutionary stone restoration process, adapted over many years.
We were able to co-ordinate our scheduled restoration to fall in line with the shop's planned renovation programme.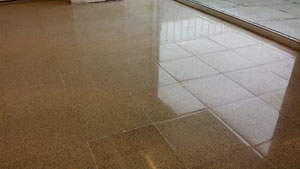 As you can imagine our industrial rotary machinery played a pivotal role with this project. It is hugely important to offer the best possible restoration services and this means that we need to invest in state-of-the-art machinery that can complete the work quickly and efficiently.
The science behind restoration of stone flooring has advanced so much in recent years and we are ensure that we are constantly well-informed of new machinery, products and techniques. The Terrazzo tiles were almost unrecognisable once restored.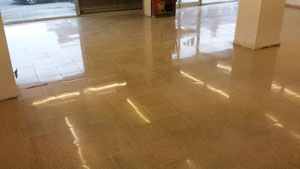 The distinctive look of these tiles were revealed; we achieved a polished, high-shine finish which accurately promoted a hygienically clean environment. Our clients were stunned by the result!
If you would like more information on Terrazzo cleaning or any of the floor care services that we offer we ask you to call us on 01257 270775. We endeavour to answer your enquiries quickly and will always do all we can to offer as much information as possible and to ensure the smooth-running of your project.
By On March 22, 2014
No Comments
It is inevitable that immediately after installation natural floor tiles are being marred by foot traffic. It is important that any cleaning products used to regularly maintain or clean your stone floor are formulated specifically for that stone type.
We were invited to fully restore these Travertine tiles in Chorley. After inspection of the travertine floor we offered information and advice about our stone restoration process and our client made the decision that they wanted a high-sheen, polished finish to their floor.
We have devised a tailored process that utilizes specialised trade compounds and machinery that have been specifically developed for this procedure. This offers reduced disintegration of the stone tiles once they have been treated.
Once the stone flooring has been fully cleaned and restored, diamond encrusted rotary pads are used; this starts with course pads, reducing down through coarseness to finer pads. These incredibly fine pads produce a reflective and smooth finish.
Our client was so pleased with her polished stone tiles. One true benefit is that it is a completely tailored procedure. Whilst working through the stone polishing process, you are able to continually monitor your progress in order to make sure that the finish achieved is matched to the vision of each individual client.
The final part of the process is the application of an impregnating stone-specific sealer. Polished floor tiles look incredible and our client commented on our professional approach to our work. If you have any questions about polishing travertine tiles we invite you to call Ian on 01257 270775.
An inspection of your stone floors will be arranged at a time convenient for you and we use this opportunity to discuss the stone restoration process, any limitations to the job, the finishes that can be achieved and to offer advice.