Archive for the 'Victorian Tiles Cleaning' Category
By On May 14, 2015
No Comments
These tiles portray an example of a Victorian Tiled floor; this era was incredible for its elegant design and style. Geometric shapes create a unique tiled floor that creates a beautiful statement for any home.
This stone cleaning job took place in Ormskirk and we deep cleaned and restored the geometric Victorian tiles and mosaic tiled floor. It is an excellent example of the eclectic design that has remained popular through the years.
It is typical for such tiles to be installed in entrance and hallways; homeowners wanted to showcase such a feature to visitors. It is easy to say that these decorative tiles really do look prestigious.
Tiled floors such as these are remarkably practical. An original Victorian floor will have likely have been laid over 100 years ago and if looked after carefully can last a lifetime more.
It is more than likely that your Victorian floor tiles will be unglazed; the traditional method of cleaning employed the use of wax or oil to help with resistance against water spillages. It was unknown that such cleaning processes could be working to trap dirt, to increase discolouration and to make the tiles slightly slippery in some conditions.
This almost archaic method meant that often a lot of dirt was therefore absorbed deep into the individual tiles. This forms part of the reason as to why restoring tiled floors such as these is so rewarding; intensive cleaning, careful restoration and sealing worked to provide an incredible transformation. The before and after images showcase just how impressive these results can be.
Our advice to this client was that routine cleaning should involve as little liquid as possible to avoid damage and loosening of the individual tiles. We also provided them with detailed information as to the best products to use to get the most out of their stone flooring.
Please enquire by calling 0800 852 7177 today.
By On December 16, 2014
No Comments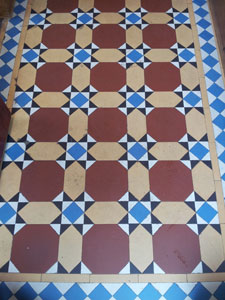 If you are looking for a floor tile design that is quintessentially British, look no further than Victorian floor tiles. These floor tiles can be found in both Victorian and Edwardian properties and often form part of a larger restoration project.
Victorian tiled floors create an embellishment of any home and can often be found in entrance ways such as that of the property that we visited to offer our stone cleaning services for. Clients that have Victorian tiles often feel very passionate about them.
This was certainly the case with these beautiful tiles in Blackburn. The home owners loved the statement that the tiles provided to their home. They had noticed over time that the finish on the tiles had started to deteriorate.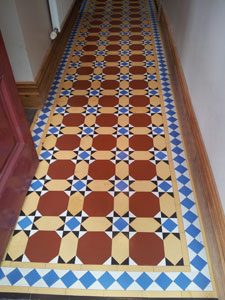 They wanted to be well-informed with regards to the stone restoration process as well as how best to maintain the tiles after they were carefully restored. A finish and stone seal are incredibly important to making sure that a high traffic area like this offers a resistance against daily exposure to water. It also works to boost the look of the stone floor.
The tiles were left deep cleaned, restored and sealed. There are so many stone products available and on discussion with our clients, it is often the case that they find this a minefield. Stone-specific product formulations are important and as part of our customer care programme we will leave you with detail of the best available products to maintain your clean tiles.
Damage to natural stone surfaces often stems from sand, dirt and grit walked in on the soles of shoes. The likelihood of these abrasive materials entering your property can be reduced by placing doormats at entrances.
If you would like to find more about our services for floor tiles please call our well-informed staff on 01257 270775.