Archive for the 'Wood Finishes' Category
By On October 23, 2017
No Comments
It is true that there is a host of information available about wood finishes. The end result may be that you are more confused than where you started. Oils, waxes, stains are just some of the variations and it is important that you select the best wood finish for your floor.
Without this you will be left with a wooden floor that is inadequately protected and likely looking nothing like you would have imagined.
What is the solution? The solution is seeking the advice of a wood floor restoration specialist. We were invited to sand this wood floor in Lytham St Annes. The room had an extremely dark painted finish so it was decided that they wanted a white hard wax oil wood finish for their newly restored floor.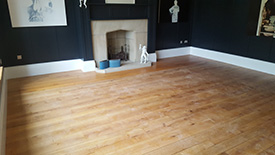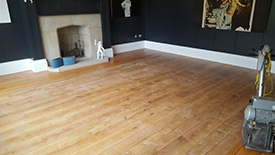 Hard wax oil is an extremely versatile product and is a blend of tung oil and carnauba wax. It can be used for wooden flooring as well as furniture. The application of this product provides a very high barrier against liquid spillages, usage and staining.
It allows the natural appearance of the wooden boards to shine through whilst offering the highest protective qualities. It provides a matt finish that is relatively straight forward and easy to maintain.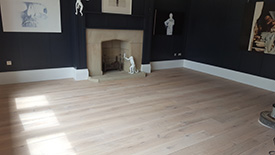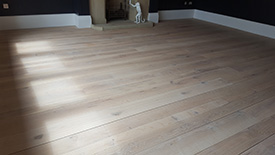 Due to its high resistance ability it is suitable for many rooms throughout your home, even bathrooms and kitchens. That shows the suitability for areas of your home where there is heavy use. It is only an interior finish.
The results of the floor sanding project totally transformed the room. It offered a superior feel and oozed quality and sophistication once we'd finished. The end result really pulled the room together and created a complimentary statement for the characteristic room.
Are you looking for a floor sander with wide-ranging experience? Call 1 Stop Floor Care today on 0800 852 7177.
By On July 29, 2017
No Comments
We regularly talk about wood finishes and the importance of getting them right. It is incredible to identify that many of our clients are not well informed about wood finishes and the product selection available.
We also usually find that once we start to discuss product selection that our clients start to feel as though there are too many choices. This is where our time-served experience comes into play and we are able to offer valuable information that helps them to select the best product for their particular floor.
This does not mean that we blind them with science or that we only recommend a wood finish that we are comfortable using. It means that we will carefully consider their floor, the expected use and the information discussed by our client.
All of these details assist the decision-making process and will narrow down the product list to specific finishes that will best suit any particular job.
Wood Finish Application
The application of any wood finish product, as we have discussed before is vitally important. If a product is laid to thickly or thinly then it will not offer optimum protection for the wood boards underneath. If it is laid unevenly or areas are missed the same issue will occur.
Smooth application will mean that the entire surface is equally protected. Finish application can go so wrong and with any large space can be quite a daunting prospect for those with insufficient knowledge.
We created this short video that shows us applying a wood finish to a large expanse of newly restored wooden floor boards. It shows how the finish is applied smoothly. There are simple techniques in the way that the application process is handled so that the edges of the floor are as seamlessly protected as the central boards.
Are you looking for someone to fully restore your wooden floor? Call 1 Stop Floor Care today and we will be happy to provide you with a quotation. Call our helpful staff today on 0800 852 7177.
By On June 9, 2017
No Comments
When you are considering restoring your wood floors there are different elements that you need to consider. Each of these play an important role in the overall success of the project. One incredibly important element that we are going to discuss is your chosen wood finish.
Why is this important?
A wood finish protects your wood boards underneath
Wooden finishes show the outward appearance of any transformation
This really can be make or break for your wood restoration project due to the fact that it is the first thing visitors to your home or property will see.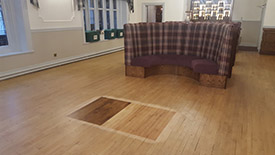 Selecting the most appropriate wood finish will offer you the opportunity to create a real statement with your restoration. It is important that a finish is selected that appropriately protects the floor from the anticipated usage and offers the right level of coverage to the wood boards.
Some of our clients want a finish that will show the wood grain through. Others want complete coverage. This is where design is individual and this is where our professional input is key. We take the time to discuss all options and offer advice based solely on our client's individual requirements.
These images show a job that we recently completed. It is sometimes the case that our client's need to see the finishes on their particular floor in order to envision the completed space. This sample process offers a tangible opportunity to see exactly how your floor will look when finished.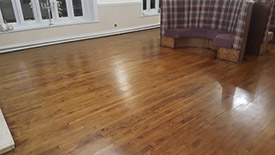 It is important to remember that a wood finish viewed on a screen or image may look completely different to when it is applied to your wood boards. This is why the sample process can be so important to some clients if they are struggling to decipher between different options.
Are you considering wood floor restoration? Remember: looks can be deceiving! Your wooden floors on quick glance can appear to be in an adequate condition. On closer inspection elements of deterioration become more apparent. Call our helpful staff today on 0800 852 7177 to enquire about our floor sanding services.