Archive for the 'Wood Floor Sanding' Category
By On February 27, 2017
No Comments
We were asked to restore this wooden floor in Preston. This was part of a larger job where we sanded a few different floors within the home. Individual wood finishes were selected for the floors, creating unique spaces.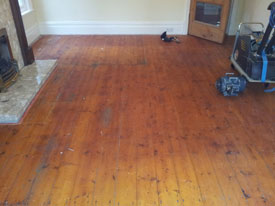 It is true that a wood finish can create an individual statement for any space. The tones and colouration can look different in varying lights and they can range from a dark hue to a clear appearance.
This particular floor had been covered by a carpet for many years. Any carpet application is completed with carpet grippers and adhesive. The carpet gripper strips are often attached to the floor with specialist adhesive. When these are taken up they can provide a real challenge to remove.
Other carpet adhesives can also leave a lot of residue on the surface of the wooden floor. It is important that absolutely all of this is removed prior to finishing the floor. If this were to be left there would be an uneven finishes and the floor would look patchy where the product remained.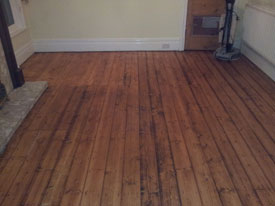 When a carpet has been laid for many years the likelihood is that the adhesives have become brittle. This means that the carpet is easier to remove, however does not mean an easier job for the floor sanders.
Although our professional sanding machinery makes as light work of this process as possible. The floor looked incredible once finished. Our clients wanted a darker finish that brought out the grain pattern of the floor. This provided a stunning look which they were so pleased with.
Beautiful wood floors can be found in many older buildings, hidden under other floor coverings. These floors have such character and can be sanded, repair and finished to offer a striking alternative. Are you considering a floor sanding project? Please call us today on 0800 852 7177.
By On February 27, 2017
No Comments
We regularly receive enquiries from individuals that are either less than satisfied with their own attempts at floor sanding. Either that or they feel similarly about a floor restoration job completed by another Company.
Either way it is important to remember that there is a clear and concise way in which a floor should be sanded. Some are confident with the intricacies that this process brings and some may approach the job with more hesitation.
Some Mistakes May Include:
1) Selection of incorrect machinery
It is hard to argue that anything can beat the floor sanding machinery available via professional floor sanding Companies. Some of these machines include belt sanders, drum sanders, edge sanders and more, smaller tools. It is important that the correct tool is identified for any particular part of the sanding process.
2) Selection of incorrect products
This is incredibly important as some products are not suited to the floor sanding process. This also extends to the incorrect application of any particular product. Some formulations need to be applied in different ways so it is important that you are aware of this prior to attempting this process. Invest time in researching the best product for your particular floor as this will ensure the longevity of your restored wood floor.
3) Inexperience in the ways in which to sand wood floors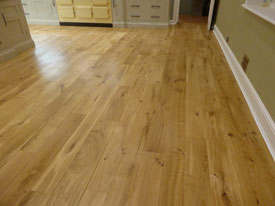 Some machinery requires you to sand in a particular motion. If you use the sander across the grain of the wood boards, damage can be caused and can be expensive to fix. Do not rush to complete the work as this will inevitably produce a poorly finished floor. It is worth taking your time.
Our advice wouldn't be complete without outlining that our professional services for restoring wooden floors is cost-effective. We have vast experience and can complete the job quickly and efficiently.
It really is worth calling us for a no obligation quotation to find out whether we can support your wood restoration project. Call today on 0800 852 7177.
By On October 4, 2016
No Comments
Wood floors are available in a huge range of options. It may take you a while to identify the best-suited type for your property. However, when found it is likely that it will add a whole new dimension to the space.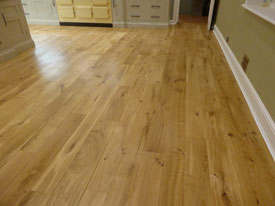 This can be the case for both smaller and larger properties. When we complete wood floor restoration work, even the smallest of spaces can be transformed. The same can be said for our larger commercial floor sanding work as well.
As well as looking great, a well-publicised fact is that wood floors are easy to maintain and withstand heavy usage. There are certain routines that you can complete that will make sure that your wooden floor stays looking its best for as long as possible. What are these?
Daily sweeping will eradicate particles that appear on your floor from usage and footfall. If left these particles can work as an abrasive when carried around on people's feet. The result of this will be scratched and dull spots.
Protecting Wood Floors in Domestic Properties:
Placement of an entry mat both externally and internally at every doorway
Protecting Wood Floors in Commercial Properties:
Arrangement of a daily cleaning programme that will make sure particles are not left from daily use. It is important that your selected cleaner is familiar with the correct product formulations for wood floors.
Products should be used to complement this floor type and not work to wear down the wood finish.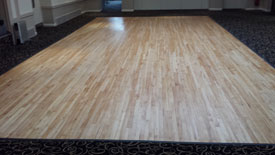 It is important to remember that deterioration of your floors is inevitable. It is unavoidable but should not be considered to be a huge problem.
Our floor sanding and wood repair services are there to offer a cost-effective solution to the ongoing care of wood floors.
If you would like to enquire about our services we invite you to call today on 0800 852 7177.
By On June 23, 2015
No Comments
We were invited to restore this Beech floor in Chadderton and were shocked to reveal the story of how the floors had deteriorated to the state that they were in.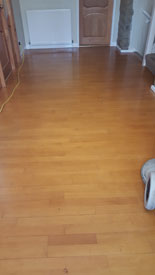 On discussion with our client it was identified that two years prior they had received advice of their painter and decorator that Yacht Varnish would be the best floor product for them. As a result, two years on the wood floor had turned orange and you could no longer see the wood grain.
We were asked to provide our in-depth floor sanding services throughout the downstairs of the property where wooden floors were fitted.
As usual the wood boards were fully stripped back and then coated with a high quality wood lacquer. The results speak for themselves and the clients could not believe how the finish and visibility of the beautiful wood grain could offer such an outstanding floor.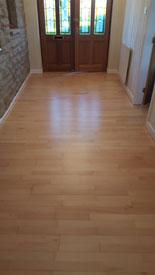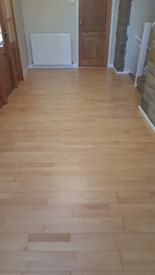 The moral of the story is; use a professional floor restoration specialist and keep the application of Yacht Varnish for your boats!
This again is another example where product choice can play a pivotal role in the result of the restoration process. If an incompatible product is selected it can either cause damage or it can result in an unsightly finish.
Beech Floor Facts:
Beech flooring is a versatile wood; it is light in appearance and works well with a large range of stains and finishes.
Beech is a very strong type of hardwood; this strength means that it offers incredible durability and a beech floor will be a long term investment when treated and cared for correctly.
Beech wood in general does not require a great deal of routine maintenance. Vacuuming or dry mopping the floor on a regular basis will keep it dirt-free.
Our TOP TIP for wood flooring is that any dirt or particles should be removed on a daily basis because any possible damage will likely occur from dirt or other abrasive particles, if left present.

Contact our friendly staff on 0800 852 7177 for more information.
By On March 10, 2015
No Comments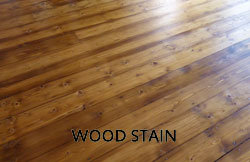 Wooden flooring is timeless in its appearance and has impressive functional and practical advantages over other flooring types. An important element of ensuring that these are possible is the careful selection of any particular wood finish.
Through our experience we have built up incredible knowledge about wood products and wood finishes. There are a number of factors that need to be accounted for and this will form part of the decision process when offering our clients valued advice.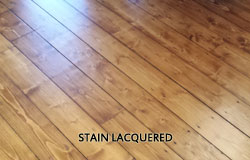 These may take into account usage, wood type, heat, moisture and possible direct sunlight. These factors will direct us in the identification of an oil, wax, lacquer or varnish product and we will ensure to select a wood product that compliments the existing décor.
The application of a wood finish is essential to protect the surface of any wood floor. Faster deterioration of any floor is inevitable without a finish. The product will work to prevent cracking and swelling and a wood stain will enhance the look of the wood boards.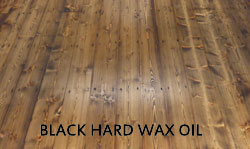 Finishes can be broken down into two main groups including penetrating finishes and surface finishes. Penetrating options tend to be the oil variants that offer a more natural finish whereas the surface options include varnish and tend to offer a more durable and hard-wearing wood coating.
We are also in the position to offer bespoke wood finishes to achieve a truly unique statement for any area of your home or business. Our skilled technicians take time to discuss your individual requirements to effectively select the best option to achieve that look.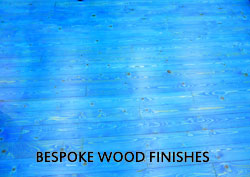 We have worked hard to earn a well-respected reputation for the floor sanding and wood floor restoration work that we complete throughout Lancashire.
If you would like to find out more about wood finish products we invite you to call us on 0800 852 7177.
We will endeavour to help and will work to support the process between enquiry and completion of the work and beyond.
By On January 15, 2014
No Comments
Sanding wooden floors throughout the UK has provided our Company with vast experience in the trade. It has allowed us incredible opportunities and it is great to be able to showcase these on our website. Every job varies greatly and the before and after images of this wood floor sanding job show the stunning change to this beautiful space.
We were invited to complete this job in Buckley Theatre School in Wigan; and what a brilliant job to start the New Year with! We were asked to fully sand and seal 150m² of reclaimed maple flooring.
The wood floor boards were originally taken from a University in Lancaster and relayed in the dance studio. The boards were worn and needed carefully crafted restoration to bring them back to life.
The floor sanding work was complete in 2 ½ days. After the sanding process was completed, it was decided that the wooden floor should be finished with a very hard wearing two pack commercial floor laquer.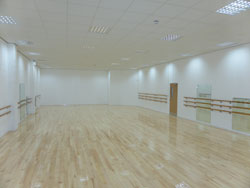 The newly restored maple flooring really did alter the overall appearance of the studio. The images show this transformation; we wanted to show the process from start to finish.
We have wide-ranging experience in commercial floor sanding and have the necessary man-power and industrial machinery to complete the work with minimal disruption to your business.
If you have any questions or would like to discuss the options available we would ask you to call us on 01257 270775; we would be happy to talk you through the process and work hard to offer assurance that you are dealing with the best-served company to restore your wood floors.
By On November 25, 2012
No Comments
This customer in Preston had originally decided to attempt to sand his living room floor using equipment from his local hire shop. He very quickly found there was a lot more to it than he thought. The sanding belts kept breaking and there was dust everywhere. He then decided to call 1 Stop Floor Care.
The pine floor was sanded to a high quality, dust free finish ready for the application of a coloured hard wax oil.
Call or email now for a free quotation.
By On December 9, 2011
1 Comment
Wooden flooring gives warmth, beauty and value to any property. There are many different styles, fashions and textures available.
Over time some floors can begin to look tired and scuffed, especially in areas of any property where there is high foot traffic. Ordinary retail wood floor cleaning products aren't specialized to deal with individual types of wood floors and often leave a residue behind. This can create a dull, lifeless impression wooden floor.
The first picture shows a walnut wooden floor in Blackburn, Lancashire with a build up of products and damaged over many years. When we first arrived, it was difficult to see the natural beauty of this floor.
We used dust free wood floor sanding machinery to strip back the floor; this process was repeated until it was fully prepared for finishing. The floor was then finished, leaving it smooth, clean and durable for years to come.
For all your enquiries please call Ian on 01257 270775 or 07714 439813.