Commercial Carpet Cleaning Lancashire
By On April 18, 2015
Under Commercial Carpet Cleaning
We provide a comprehensive range of commercial carpet cleaning services that are tailored to match our clients exacting requirements. These include deep cleaning of carpets, carpet protection, carpet stain removal and a full maintenance programme for ongoing care.
We offer an individual approach which is dictated by the nature of any carpet stains and the type of carpet. Dirt, dust, pollutants, allergens, soil and food particles and bacteria are just some of the contaminants that make their way into any business carpets.
The carpet fibres act like a filter for these, however, the ability to do this is reduced over time as it effectively becomes saturated. It is a well understood fact that having these contaminants present that it can contribute to allergy and health problems for your employees.
We were invited to deep clean these business carpets in Preston, Lancashire. We use eco-friendly carpet cleaning products and use state-of-the-art industrial machinery that offers fast and effective cleaning services.
Once all stains had been removed and the carpets had been deep cleaned, we completed our comprehensive carpet protection provision. This provides an invisible defence around the carpet fibres and works to repel water and oil-based solutions. Incredibly it also works to protect against abrasion, matting and wear and tear.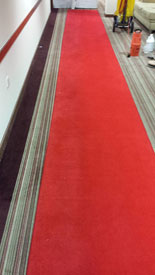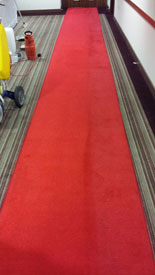 Part of our carpet cleaning process offers a professional approach to be flexible around existing business commitments. Our aim is to minimise any disruption caused; we offer a guaranteed superior service that is fast, efficient and cost-effective.
This client went onto sign up for our ongoing maintenance programme that offers regular cleaning to make sure that business carpets remain looking at their best for longer. Impressions of a business are vital and this Company wanted to make sure that the clean appearance matched their exacting standards for their work.
If you would like to find out more about 1 Stop Floor Care, expert commercial carpet cleaners for Lancashire and surrounding areas, we invite you to call on 0800 852 7177.