Commercial Carpet Cleaning Preston
By On September 30, 2015
Under Commercial Carpet Cleaning
It is a well-accepted understanding that professional carpet cleaning can deep clean carpets that most would assume are ruined or need replacing. The process and replacement can cause a lot of disruption as well as the fact that it is a costly exercise.
We were asked to steam clean the carpets in the Ramada Hotel after their guests had a food fight the night before. We were able to offer a prompt and professional service and ensured minimal disruption to the other hotel guests.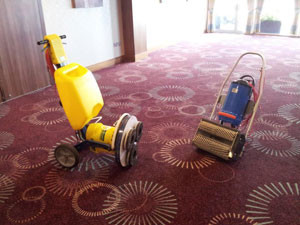 Once the carpets were deep cleaned there was no indication of the previous night's antics. The area was restored to looking pristine and offered the guests the right professional impression. They were left with the confidence that the carpets not only looked great but were hygienically clean.
Why should you clean your carpets? Carpets act as a filter to unhealthy contaminants such as dirt, bacteria, mould spores, food particles, dust mites and many more.
Any carpet can become saturated and therefore these can cause health issues, particularly for allergy sufferers. Regular cleaning keeps on top of this and allows you confidence that your indoor air quality is at an acceptable level.
How often should carpets be cleaned? The answer to this question depends on a few factors such as foot fall, use, location and whether shoes are worn on the carpet. All carpets should be professional cleaned once a year but some may need doing every six months and others every eighteen months. The best advice that we can offer is to arrange a no obligation quotation where we will offer advice on the most appropriate action.
We approach commercial carpet cleaning with the respect it requires. The wealth of knowledge and experience that we have means that we are well-equipped to deal with all types of carpet stains and carpet types.
Please call to arrange a quotation today: 0800 852 7177.