Commercial Floor Sanding
By On August 30, 2016
Under Commercial Floor Sanding
We will often discuss how proud we are of the range of floor cleaning work that we receive. Not only in the range of flooring types but the distance that our demand stretches.
Commercial floor sanding work may not be for everyone but we have built up a reputation based on our specialist service for this provision. How has this built up?
Word of mouth
Having time-served experience
Ensuring that each and every job that we finish and complete it to the highest standards possible
By making sure that we answer client enquiries quickly
By tailoring our services so that they match the individual requirements of that job
By being as flexible as we can with regards to individual demands
By knowing exactly what we are talking about when offering information and advice
By enjoying taking the time to speak with our clients about their questions
By being flexible around existing commitments and business schedules
We completed this wood floor restoration job in the Ricoh Arena in Coventry. This shows the calibre of work that we receive which pays testament to the way in which we price our jobs and the results that we achieve without exception.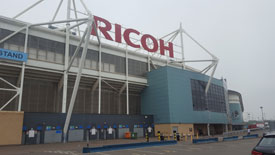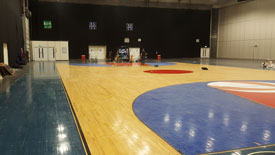 This purpose built wood floor needed completely sanding to take off the surface coloured finish. Once this had been removed, it then needed to be finished to offer a natural wood feel. It really did take on a huge transformation and the results can be seen on the images.
We are well-equipped to take on such large jobs and our skilled workforce are expertly trained to deliver first-class results quickly and efficiently.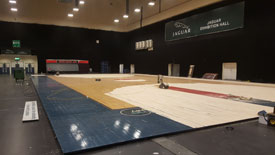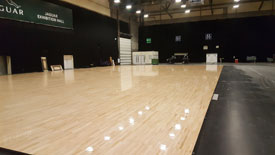 Wood floors in commercial settings offer many advantages; their aesthetic appearance and general easy care means that they have timeless appeal.
If you have a large commercial wood floor that requires sanding and restoration please call us today on 0800 852 7177.