Concrete Polishing
We are always trying to ensure that we offer the most up-to-date services and the technologies have advanced incredibly for the concrete polishing process.
Concrete grinding is a provision that demands a skilled approach, combined with expertise. This is needed in both the product formulations selected and the polishing equipment, created specifically for polishing concrete.
Why are Polished Concrete Floors Popular?
From the images you can see that a restored floor produces a transformation that is difficult to rival: a once unsightly concrete floor can produce an aesthetically beautiful floor
Concrete floors are incredibly durable and are well-suited to both commercial and domestic properties
Did You Know?
A concrete floor can be stained to replicate other polished stone types
Different stone finishes are available for concrete; this ranges from a high-gloss, reflective finish to a more satin surface
The Concrete Polishing Process:
Due to the make-up of concrete as a material, coarse diamond segments are needed to grind down the surface. Grinding machinery is state-of-the-art and is specifically produced to polish concrete.
Starting with a coarser pad works to grind down the surface, removing the coarse texture, old coatings, scratches and other blemishes.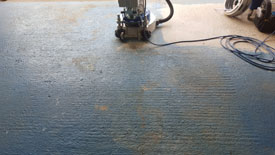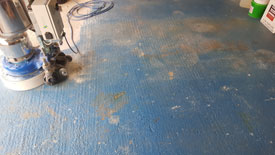 If a concrete floor is in a particularly untreated or deteriorated state then this process is likely needed to be repeated a number of times. Care and attention needs to be taken; this is not a process to rush as this will offer an unsatisfactory finish.
Diamond abrasives are then used to refine the finish of the floor, providing us with the ability to tailor the process to match the requirements for finish.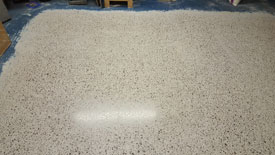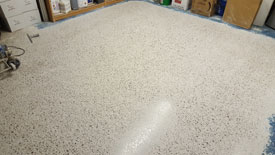 As with all other stone types, an impregnator sealer is then applied. This works to further strengthen the stone and allows ease of ongoing maintenance. This is another benefit of this floor type and pays testament to its growing popularity.
Our TOP TIPS for maintaining your polished concrete floor is to ensure that any spillages are mopped up quickly. Neutral-ph cleaning products should be used if necessary and daily dirt and dust removal should be completed with a hover or soft-bristled brush.