Floor Sanding Frequently Asked Questions
By On December 14, 2016
Under Floor Sanding
Our floor sanding services are quality assured and we take great pride in offering information and advice to our customers. When we complete a survey of a wood floor we will take the time to discuss the elements of the job with our clients. Through our experience we have come across many questions about floor sanding. Here are some:
Are my wood floors in too bad condition to restore?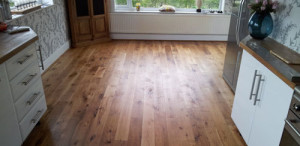 If you are considering restoring your wood floors then it is likely they are in a bad way. It may be that they have been hidden under another floor covering or they have lost their lustre after many years of use.
Either way, the floor sanding process sands away the top layers of the wood boards. This reveals a beautifully smooth surface. This is where experience in the trade pays dividends and we are well-versed in how to approach challenging floor sanding work. We will always apply our knowledge in order to achieve the best-possible sanded floor for our clients.
How do you fill gaps in the wood floor?
There are a couple of different ways that this type of wood repair can be tackled. The first method is to glue a strip of wood into the gap. This only works for larger gaps but can offer a really great finish. Smaller gaps may be filled using a gap filler. This also works for fine line repairs. Rest assured that we will find the best method for your individual floor.
How long will my newly sanded wood floor last?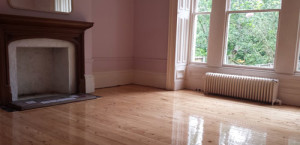 There are many factors that can influence this answer; but we will always offer advice when attending the survey. The influencing factors include: level of footfall, the environment where the floor is fitted and the ways in which the floor is cleaned.
On average we say that a restored and finished wooden floor will last between 5-10 years. Commercial wood floors may last around 3-5 years but this will also depend on usage.
We have a range of maintenance programmes that will ensure your wood floors are left looking at their best for their lifetime. Call today with any questions you may have on 0800 852 7177.