Hardwood Flooring Leyland
By On October 23, 2015
Under Floor Sanding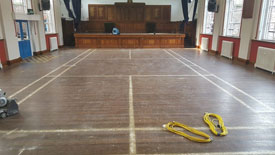 We were selected to restore this beautiful aged hardwood flooring in Leyland. From the before and after images it is difficult to believe that it is the same floor.
Whilst hardwood floors may be a larger outlay initially, there are many reasons as to why a hardwood floor variation is a better alternative than other softwood options.
What are the benefits of hardwood flooring?
A hardwood floor is easy to clean and has a straightforward process for routine maintenance. The trick to this is the knowledge of the best product formulations to use and the best techniques that will allow your floor to look better for longer.
It is well-accepted that hardwood offers an elegant and high-quality appearance. This sophisticated finish is accompanied by the fact that it offers warmth and timeless appeal. This floor type is steeped in history and will be used for many years to come.
Hardwood is intrinsically strong and can last for generations. This durability means that it is a brilliant flooring choice for workspaces, commercial premises and busy homes. It can also work to promote a healthier indoor air quality as well.
Selecting a hardwood floor allows you the opportunity to add value to your property which means that the outlay can be considered as a long-term investment. It is also considered that having hardwood flooring in your home will work to assist the resale process as it is so sought after.
As well as many different species that are available; when laying a hardwood floor you are able to carefully select colours, styles and finishes. As with other wood types boards are available as pre-finished and unfinished. This means that unique and diverse needs can easily be met by this wood type.
If you would like to enquire about your options for sanding hardwood floors please call today on 0800 852 7177.