Lacquered Oak Floor Lancashire
By On February 29, 2016
Under Floor Sanding
Wood floor lacquers provide a hard wearing and very durable wood finish. Floor lacquers offer a protective coating and are available in different finishes including gloss, matt or satin.
We were asked to fully restore this oak floor in Lancashire. Our clients could envision the potential in their wood flooring. When we arrived the floors were in a deteriorated state and looked in bad condition. The finish was uneven and blotchy.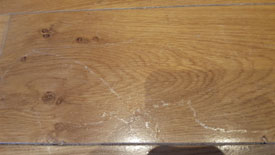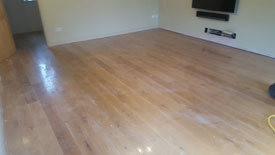 The existing finish was stripped back. Even at this stage, the beautiful wood grain shone through and the potential for exceptionally striking floors was visible. Once fully sanded the floors were finished with a wood lacquer. We discussed, in detail, future maintenance advice for these floors.
We outlined that particles, especially abrasive ones would likely damage the finish on the wood floors. This may, in some cases, seem difficult to avoid but our top tip is to ensure that mats are placed at every external entrance. It is important to invest in a high quality mat so that particles are removed from footwear on entering the property.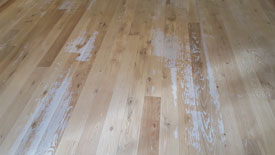 What other cleaning advice do we offer our clients?
Daily Maintenance: this consists of cleaning the floors with a vacuum or soft-bristled brush. This process works to remove abrasive particles that even the most careful home owner can't help from entering your home.
Routine Cleaning: if a dirt patch is identified it may be that damp cleaning is the best-suited method. It is important that not too much liquid is applied to a wooden floor as if this is left to stand for any amount of time, it is likely to cause damage. Cleaning solutions are available that will support this, ensuring that your wood finish is not damaged or worn away by the cleaning process.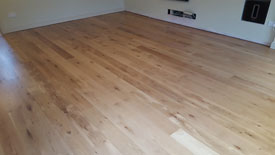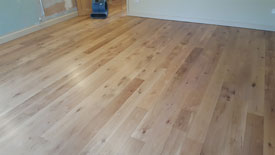 We are exceptionally proud to showcase the work that we complete and if you would like to enquire about our competitively priced floor sanding service please call today on 0800 852 7177.