Oak Parquet Floor Restoration Preston
By On April 20, 2017
Under Floor Sanding
We were asked to restore this oak parquet floor in Preston recently. Oak floors are by far one of the most popular wood flooring alternatives and there are many reasons as to why this may be the case.
As a hardwood Oak is extremely hard-wearing. It has many uses in the building trade which has facilitated its credibility. This floor offers an insight into the style that an oak floor can bring to any property. What a statement for an entrance way to your home?
Oak's colour gets richer as the year's progress. It is important, therefore, to consider reclaimed pieces when completing a restoration of your oak floor. Damaged pieces must be reset and possibly replaced if necessary. This forms part of our all-round service.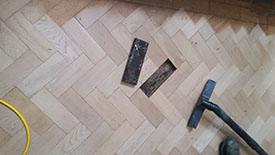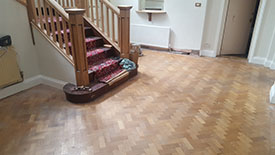 Our clients have the utmost assurance that they are appointing the best-available Company to restore their wooden floor. Each and every aspect of the restoration process is carefully considered in order to achieve the best finish.
Oak's attractive grain pattern also provides a decorative effect. This often adds to the overall look of the floor. The fact that oak is available in such varying styles, grades and dimensions means that individuals have the opportunity of achieving an individual look.
Another element that some may not know is that oak floors are resistant to mould, mildew and fungus. In environments where there is a slightly higher moisture content this can play a really important role. An expertly finished wood floor will offer further resistance and will ensure that it remains looking great.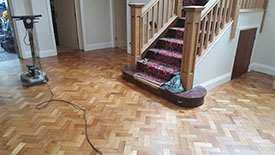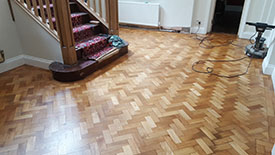 Parquet Floors; Restored!
This particular floor was fully sanded, damaged boards were replaced and the entire floor was finished with an oil. When finished it once again offered an opulent and stylish look. If you would like to enquire about restoring your wood floor we would appreciate your enquiry on 0800 852 7177.