Refinishing Wood Floors Leyland
By On February 9, 2018
Under Floor Sanding
Transforming your wood floors does not necessarily mean changing its colour drastically with another wood finish. What it does mean is altering its appearance so that it is refinished to a professional standard. This finish not only needs to look great, but it needs to be long-lasting to offer value for money.
How is this achieved? This is achieved through a variety of individual elements. However, our dustless sanding machines support this process immensely. This sanding system has revolutionised the floor sanding provision. It allows us to offer a virtually dust free service.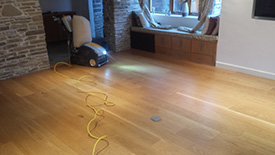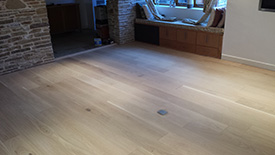 Professional floor sanding technicians can now monitor their progress more readily and the lack of dust created vastly speeds up clear up and mess for clients. Not all of our clients enquiring about floor sanding know that this service is available.
Both belt sanders and edging machines can be connected, meaning that the entire surface of your wood floor can be sanded using the system.
Our sanding system offers:
A virtually dustless sanding service
Superior result for sanding your wood floors
Is accompanied with our varied experience in the floor sanding trade
Comes alongside our exceptional customer service
Working throughout Lancashire and the surrounding areas we are able to offer the guarantee that our dust extraction system is the most powerful available. It is important to remember that if there is no dust created in the process, there is no clean up and no further disruption to you. It really does make a huge difference for our clients, all of which are ecstatic with the results we achieve.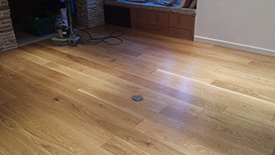 We sanded this wooden floor in Lancashire. It was part of a larger wood restoration job, but these pictures show the transformation we achieved. When we arrived, the floor was worn and discoloured.
Once sanded, the natural wood was revealed. We were then able to use our top-rated Pallmann products to create a natural, yet hard wearing finish.
Are you interested in a floor sanding quote? Call today on 0800 852 7177.