Restoration of Pine Scaffold Boards Chorley
By On May 26, 2015
Under Floor Sanding
These images showcase the process where these pine scaffold boards were transformed from their originally laid condition to now.
The scaffold boards had been laid as floor boards to create a unique statement wood floor that would create an intriguing floor covering for this new business premises.
'Cakes By Ruth' had relocated its position to this new shop in Chorley. The wood floor restoration process was intensive but incredibly rewarding to see the transformation throughout the sanding process.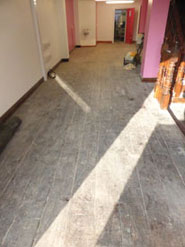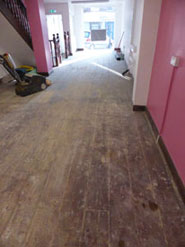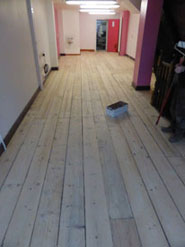 The once very dirt wood boards started to be stripped back, revealing a beautiful natural wood grain with character.
Using scaffold boards as flooring creates a rustic appearance and they are a cost-effective product that, once restored, are long-lasting and will cope with the footfall in a commercial premises.
It is important when sanding such wood that an even surface is achieved. This is vital in order to avoid unevenness that will act as a trap for dirt and possibly provide trip hazards. This is where our expertise pays dividends in providing a result that cannot be rivalled.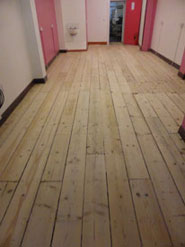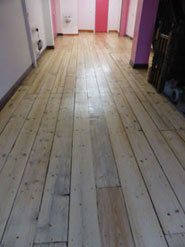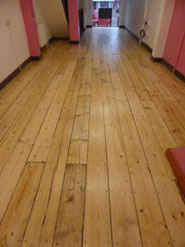 We take great pride in the fact that we do not have to adopt pressured sales tactics. We are a family-run business, based around raising the standards within our industry through our open, honest and hard-working approach.
We have been in business for a long time and have built a reputation around the using the highest ethical business practices and offering exceptional finishes.
This wooden floor was fully sanded using our dustless sanding machinery and then lacquered to provide a durable and hard-wearing wood finish. Wood lacquer intensifies grain and colour of wood and produces a finish that is difficult to scratch.
If you would like to enquire about the wood restoration services we provide please call us today on 0800 852 7177.