Restoring Beech Wood Flooring Lancashire
By On August 26, 2017
Under Floor Sanding
Commercial floor sanding requires an experienced approach. We were asked to restore this beech wood sports floor in Lancashire. This kind of wood floor has its own advantages and pays testament to its continued popularity. What are these advantages?
Its Elegant Appearance
As a natural material, it likely that the floor will age gracefully in its colouration. This offers an advantage against other synthetic or man-made materials. With the correct care and attention this can really boost the aesthetics of the floor. This natural and organic material really does offer an elegant look.
Its Impressive Durability
Beech wood is relatively non-porous and offers a strong surface. This means that it is generally hard-wearing as a wooden floor alternative. This has allowed some experts to offer an explanation as a hard-wearing wood. Therefore, beech wood floors are desirable if fitted in a high usage space.
Its Ability to Absorb Shocks
This was a huge advantage for this specific floor's location as a sports floor. This floor type is referred to be shock absorbing. This means that for a sports hall it doesn't impact on its users for bearing weight or for receiving high-impact.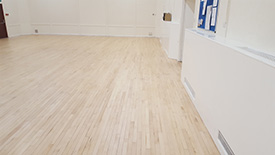 When we arrived to quote for this particular floor sanding work the sports floor was in a deteriorated state. It was fully sanded in order to remove all old surface coatings. This effectively removes all of the damaged surface and reveals the natural material beneath.
Our clients were pleased with the original colouration of the grain and wood. It was therefore decided that a natural finish would be most appropriate for this project. The wood finish required also needed to be hard-wearing in order to stand up to the anticipated high use.
Have you got beech flooring that needs fully restoring or sanding? Are you looking for a commercial floor sander? Look no further and call 1 Stop Floor Care today on 0800 852 7177.