Transforming Wood Floors
By On March 3, 2017
Under Floor Sanding
Newly finished wooden floors are one of the most attractive and striking floor types. They become less about covering them up and more about showcasing them. The wood restoration process is all about going back to basics and stripping back the damaged layers to reveal a beautiful surface underneath.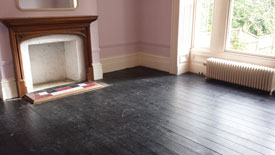 There are so many deteriorating factors that wear away at the surface of your wood floor. These include shoes, toys, pets and even just daily usage. Although many wood finishes are created to offer a durable surface, this is not everlasting.
The finish can start to peel or flake away and when a floor is no longer protected by a finish it will deteriorate at an incredible rate. Any spills will be absorbed and the hardened finish that once protected the floor will offer no barrier to scratches and scuffs.
An incredibly important part of the process is to select the best-available products. This careful selection will prove to be the difference between an adequate result and an exceptional one. Any finished floor needs to offer protection against further wear. And it needs to look great. Any product formulation must be able to offer assurance in relation to this matter.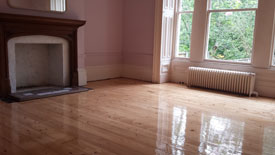 This is why our experience pays dividends as we are able to offer information and advice on the best products to restore your wood floors. We are an independent Company the products that we choose have been selected purely because they fulfil their purpose.
Floor sanding offers varying challenges from splintering, gaps, grain pattern and damaged boards. We offer a service that finds a solution to all of these and produces a finished wood floor that is both attractive and functional.
Wooden floors can be transformed such as the one in these images. A once darkened room can become bathed with natural beauty. If you would like to enquire about our wood floor sanding services please call today on 0800 852 7177.