White Wood Finish Ribchester
By On May 15, 2017
Under Floor Sanding
Wooden floors are arguably the most timeless floor covering available. At the point of installation, there are many wood types available. Further down the line, wood floors then offer further versatility as their looks can be completed transformed without the cost of replacement.
If a wooden floor starts to look aged and you are feeling as though the space needs a change then this too is possible. How might you tell that your flooring may need refinishing?
The colour may have taken on a yellow-like colour
The surface coatings may have started to flake
General wear and tear of the surface will be visible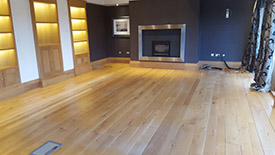 We recently completed this floor restoration job in Ribchester, Lancashire. The old floor covering had aged in the ways listed above. Our clients wanted a more modern appearance and felt as though a lighter finish would lift their beautiful room.
Once the furniture had been taken out of the room, the extent of the damage to the floor was clear. Although superficial, there were dull areas and scratch marks.
We knew with our expert floor sanding services that the space could easily be transformed. All old coatings were removed with our sanding machinery, leaving the natural wood to be refinished.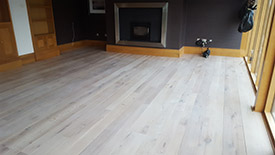 A white hard wax oil was selected in order to achieve the desired look. This product would also suit the usage of the room and offer a durable and hard-wearing finish for the family.
The new appearance complimented the existing décor and really did modernise the look of the floor. Don't let your wood floors age and become unsightly. Our services are competitively priced.
We care about our clients and we are passionate about delivering the best possible finish and service. Would you like some information and advice on wood finishes? Is your floor looking past its best? Call 1 Stop Floor Care on 0800 852 7177 to arrange a survey; let us help breathe new life into your floor!