Wood Floor Restoration Lancashire
By On June 22, 2016
Under Floor Sanding
The benefits of wood floor restoration run deeper than the obvious aesthetic transformation. A well-looked after wood floor will stand the test of time against even the toughest use.
We were asked to restore this floor in Lancashire. As you can see from the first image it had become really dull over the time that it had been laid.
The areas that experienced more movement had become duller and this made the perimeter areas stand out even more.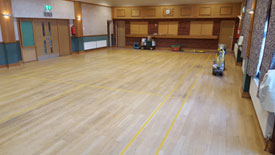 There are a range of additional reasons as to why a floor may have this appearance. If the floor was finished with a wax it may be that specific cleaning solutions used are dulling the wax finish.
If a floor had received a shellac finish it could also be that routine mopping could result in water damage. This offers an insight into the world of wood floor restoration.
Specific product formulations have been produced for individual floor types and finishes.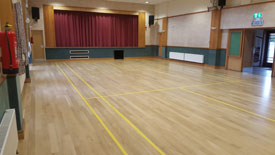 You will find that if you are searching for advice on cleaning wood floors that you are immersed in detail and choices. Too much choice will leave you feeling confused about how best to proceed.
Part of our package is to offer product information that is tailored to your exact floor. We ensure to offer detail that provides value for money and leave you feeling certain that you know how best to care for your floor.
It is likely that if you search for product information that you will find someone that says it is the best product and another informing you that it is the worst and not to use it. Some products build up over time and this can make care even more difficult.
Don't delay, call our helpful staff today to arrange a no obligation quotation. Don't let the world of floor sanding and wood care leave you feeling daunted. Our expert advice is worth its weight in gold.