Our Guide to Limestone Cleaning Lancashire
By On August 1, 2016
Under Limestone Floor Cleaning
There are certain images of limestone where you can instantly recognise it. There are, however, variations where they are unrecognisable as this tile type. That is the beauty of natural stone as it can be carefully selected to create an individual style. How can this be done?
With different tile shapes
With different tile sizes
With different grout colours
With different sized grout lines
With different tile designs
Limestone is recognised for its quality, durability, appearance and toughness. We find it incredible how different applications are now being used to create bespoke spaces.
Once selected, your limestone flooring should be regularly maintained. Specific products are available that will assist this process and will offer a solution to daily wear and tear. Natural stone requires cleaning, however, it is important that the cleaning solution does not strip back any of the seal applied to the surface.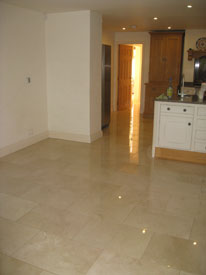 Effectively your chosen product should work to compliment your stone sealer. Are you using a steam cleaner? Our advice is to stop. Why? Because the steaming process lifts dirt onto the pad which is then carried along the tile floors as you clean.
Along the way dirt and particles are left in grout lines and these can create further problems. Once dry, the particles can then be moved and can work as an abrasive. The dirt can also ingrain into the grout lines, leaving them look unsightly.
Stone Cleaning Top Tip:
It is always recommended that you sweep or vacuum up prior to applying any spray or cleaner to your limestone floor.
It may be that you are looking for a different finish. Our stone restoration services allows us to grind the surface of the stone so that it offers a more polished appearance. These images show an example of this. Call today on 0800 852 7177 to find out more.