Marble Polishing Rufford
By On December 6, 2013
Under Marble Floor Cleaning, Marble Grinding
Having an expanse of marble tiles in your home is a luxury and looks incredibly spectacular as seen in the below images. They really are impressive and marble flooring is likely to rate highly if choosing to lay stone flooring in your home or business.
We were asked to inspect this marble floor in Rufford; the owner of the house had been in the house for one year and was disappointed that the floor appeared to be looking worse by the week.
We spent time with the customer discussing their regular cleaning routine and identified that the owner had been maintaining the floor with a steam mop and unsuitable cleaning products.
This meant that there was a gradual deterioration of the finish on the marble floor tiles and if not restored appropriately; this decline would likely continue.
After our initial consultation we returned to complete our comprehensive marble restoration process. It was discussed that the owner wanted a high-gloss finish to their tiles; the floor was therefore ground, polished and sealed with a colour enhancing impregnator.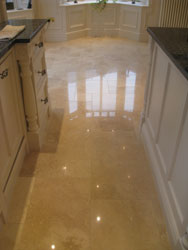 Finally, the customer was advised of the correct cleaning products and techniques to keep the marble with this high gloss finish. This part of the process is so important and allows us to share our knowledge of the trade and individual stone types with our customers.
This is where 1 Stop Floor Care offer superior services to each and every one of our clients; we strive to go the extra mile and deliver restored natural stone floors with a concentration on customer service.
We want to gain your custom for life and invite you to call us on 01257 270775 for any enquiries about marble polishing. We look forward to hearing from you.