Marble Grinding and Polishing Lytham St Annes
By On March 29, 2017
Under Marble Grinding
Marble tiles are one of the most instantly recognisable natural stone tiles. If you ask anyone what they associate with marble it is often described as sophisticated, hard-wearing and expensive.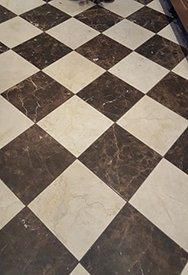 Although there is truth in all of these statements it is important that you are well-equipped with the necessary knowledge of how to care of your marble floor if you have one.
These images show a marble grinding and marble polishing job that we completed in Lytham St Annes. When we arrived the marble floor tiles had signs of daily use and wear. It was decided that the tiles needed to be fully restored in order to achieve the best result for our clients.
Marble grinding is the beginning stage of the restoration process. Our machinery uses diamond abrasives to remove surface contaminants and scratches from the surface of the stone tiles.
This part of the programme is made up of different stages and it is important that these are tailored. These need to be tailored in order to reflect the individual care of the particular tiles that you are restoring.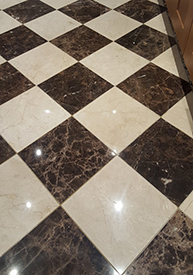 Restoring marble tiles may be a challenging but it is a process that yields outstanding results. As the top layer is removed, it reveals a flawless new surface underneath.
This new surface can then be polished to varying levels in order to achieve either a honed finish or a polished one.
The beautiful finish was selected by our client and they were so pleased with the results that we achieved through our professional service. The marble floor was left fully sealed and looking great. Sealed tiles offer resistance against wear and damage.
Marble cleaning and restoration does demand a skilled approach. One which we take great pride in! If you would like to enquire about our stone polishing provision please call today on 0800 852 7177.