Indian Sandstone Restoration West Lancashire
By On November 27, 2013
Under Sandstone Floor Cleaning
Indian sandstone floor tiles are incredibly beautiful and create a statement for any home. We were invited to restore this sandstone flooring in West Lancashire. Through advice previously received, the owner was led to believe that the drab and dirty stone floor was meant to look like this.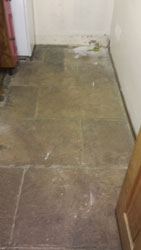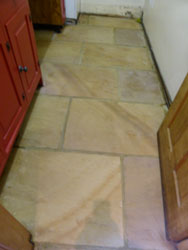 After our intense stripping and deep cleaning processes the sandstone tiles took on an incredible new lease of life. The homeowner really could not believe what the restored tiles looked like because their natural beauty and pattern had been hidden under years and years of dirt and grime.
The floor was then sealed with an impregnating sealer which will keep the floor looking this good for years to come. This is applied by hand to ensure even coverage. The before and after images provide proof of the transformation that we were able to achieve and is testament to the exquisiteness of sandstone.
Cleaning sandstone is an incredible process and 1 Stop Floor Care are best-equipped to deal with the stone restoration process. We have industrial machinery, time-served knowledge and trade-strength products that offer the superior finish required.
Part of our service is building on our local reputation for providing brilliant stone cleaning and floor care. From the point of your enquiry to delivering your sandstone restoration project; we will endeavour to keep you well-informed and provide you assurance that you are dealing with professionals.
If you have any questions or would like to discuss any aspect of our services please call us on 01257 270775. We hope that you agree the before and after images of this incredible project really do speak volumes for the power of restored stone.