Stone Sealer Information Lancashire
By On February 22, 2015
Under Stone Finishes
Through our extensive experience we have learned the importance of using the best available products to compliment our stone restoration services. To make sure our clients are getting the best from their stone floor we feel it important to discuss the requirement of stone sealers.
Natural stone floors are porous in their very make up and therefore, from the point that they are laid requires protecting by a penetrating impregnator. It is important not to get blinded by science but essentially there are two types of protection for stone tiles. Therese are sealers and impregnators.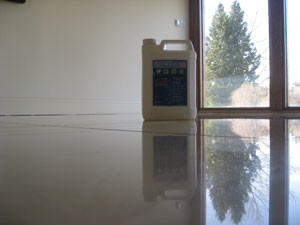 Whilst stone impregnators work to protect the inside structure a stone sealer will shield the surface of the stone tile. An impregnator is known not to alter the colour or texture of the stone, however, a sealer may create a slightly darker tone and will offer a slight shine to the tile.
Both work to safeguard the stone tiles but it is important to remember that if liquid is left on the floor for any prolonged time that it will inevitably infiltrate the sealer and will stain it as a result. The products allow time to dab up the spillage.
Floor protection products need to be periodically reapplied. This will improve the longevity of your stone floor and will offer resistance against mould and mildew in grout lines. If you are unsure of whether your floor requires a reapplication it is best to seek professional advice.
We offer stone sealing services and would invite you to call our friendly staff on 0800 852 7177 to arrange a survey. We work conscientiously to ensure each of our clients receive the best possible standards in customer care.
No two jobs are ever the same and we are passionate about the intricacies of stone floor restoration. Sealing tiles is incredibly important and will not only offer protection but it will improve the overall appearance of your floor tiles and will allow you to enjoy the true beauty of your natural stone floor for longer.