Flagstone Flooring Ormskirk
By On November 25, 2014
Under Flagstone Floor Cleaning, Stone Floor Cleaning
Are you looking for a versatile natural stone floor? Some may say to look no further than flagstone flooring; it is available in a range of textures, tile shapes and sizes. As an anti-slip tile, flagstone can be used within many areas of a home and businesses alike.
It is important to consider the expected foot traffic of the area, usage, varying temperatures and other factors when considering which floor tile is the best variant for you. The below flagstone tiles were a real feature of this pub in Ormskirk.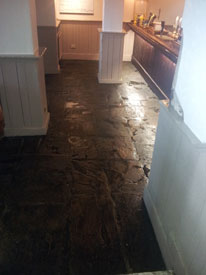 If you were to imagine an area that would experience a likely combination of high usage, liquid spills, ingrained dirt and other deteriorating factors. A pub floor would likely rank highly on your list. This was certainly the case when we inspected this flagstone floor to complete a detailed quotation.
Although dirty tiles are often unsightly; there is another element to our job that becomes very satisfying. We are confident of the restoration results that can be achieved so stone cleaning is an incredibly rewarding process.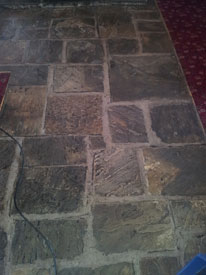 The tiles were carefully restored, taking into account the individual requirements of such a stunning stone tile. The restoration reinstated the beautiful stone floor and avoided, what some people contemplate, the costly expense of replacement.
Our client was provided with advice on routine maintenance that they then passed onto their cleaners. This elongates the times required between restorations and keeps the tiles looking at their best.
This formed part of a larger package that we offered this establishment. They also wanted to take advantage of our state-of-the-art floor sanding and commercial carpet cleaning services. This allowed them the opportunity to deal with one company and we worked closely with them to make sure that the work was scheduled at a convenient time.
If you would like to discuss any floor care requirements that you have for your home or business we invite you to call on 01257 270775 for more information. Our friendly staff are happy to support any enquiry and will guide you through the process of dealing with 1 Stop Floor Care.