Stone Cleaning Preston
By On October 22, 2014
Under Flagstone Floor Cleaning, Stone Floor Cleaning
It is important for us that from your initial contact with 1 Stop Floor Care that you are instantly reassured that you are dealing with a trustworthy, professional and courteous company who care deeply about the service that we offer.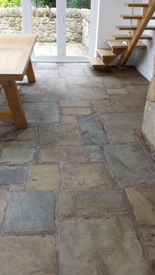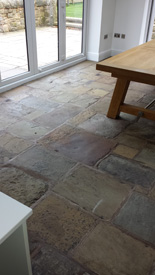 Ultimately we want to leave you feeling confident that you have employed a specialist that can offer a superior service to other competition based on our drive to be the best at what we do. How do we do this?
Our technicians are trained to national recognized standards and this is backed by our well-earned, established reputation. This is coupled with tried and tested techniques that have always looked to raise the standards of our industry. We treat the homes and businesses that we work in with the utmost respect.
When we were approached to clean and restore these beautiful flagstone tiles in Preston, it was a great opportunity to bring back to life tiles that had lost their lustre over time. Flagstone flooring offers a rustic appearance and provide character to any space where they were fitted.
Our in-depth flagstone cleaning process brought out the natural colouration of these tiles and they were finished with an industrial strength, eco-friendly stone sealer. This process allows the beauty of natural stone flooring to shine through with the confidence for the home owner that they are protected and sealed against wear and damage.
We leave each and every client with information of routine cleaning and form a maintenance programme that will make sure the tiles remain looking at their best, for longer. If you would like to request a quote we invite you to call 1 Stop Floor Care on 01257 270775, use our contact page or fill in our request for a free survey.