Know Your Wood Finishes
By On June 9, 2017
Under Wood Finishes
When you are considering restoring your wood floors there are different elements that you need to consider. Each of these play an important role in the overall success of the project. One incredibly important element that we are going to discuss is your chosen wood finish.
Why is this important?
A wood finish protects your wood boards underneath
Wooden finishes show the outward appearance of any transformation
This really can be make or break for your wood restoration project due to the fact that it is the first thing visitors to your home or property will see.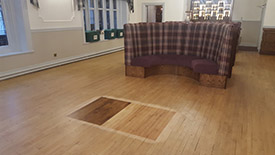 Selecting the most appropriate wood finish will offer you the opportunity to create a real statement with your restoration. It is important that a finish is selected that appropriately protects the floor from the anticipated usage and offers the right level of coverage to the wood boards.
Some of our clients want a finish that will show the wood grain through. Others want complete coverage. This is where design is individual and this is where our professional input is key. We take the time to discuss all options and offer advice based solely on our client's individual requirements.
These images show a job that we recently completed. It is sometimes the case that our client's need to see the finishes on their particular floor in order to envision the completed space. This sample process offers a tangible opportunity to see exactly how your floor will look when finished.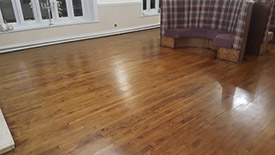 It is important to remember that a wood finish viewed on a screen or image may look completely different to when it is applied to your wood boards. This is why the sample process can be so important to some clients if they are struggling to decipher between different options.
Are you considering wood floor restoration? Remember: looks can be deceiving! Your wooden floors on quick glance can appear to be in an adequate condition. On closer inspection elements of deterioration become more apparent. Call our helpful staff today on 0800 852 7177 to enquire about our floor sanding services.