Need to Know Wood Floor Finish Advice
By On October 23, 2017
Under Wood Finishes
It is true that there is a host of information available about wood finishes. The end result may be that you are more confused than where you started. Oils, waxes, stains are just some of the variations and it is important that you select the best wood finish for your floor.
Without this you will be left with a wooden floor that is inadequately protected and likely looking nothing like you would have imagined.
What is the solution? The solution is seeking the advice of a wood floor restoration specialist. We were invited to sand this wood floor in Lytham St Annes. The room had an extremely dark painted finish so it was decided that they wanted a white hard wax oil wood finish for their newly restored floor.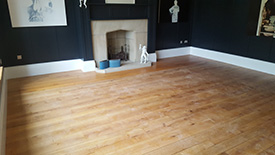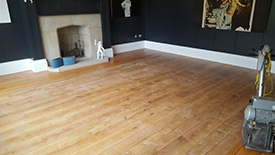 Hard wax oil is an extremely versatile product and is a blend of tung oil and carnauba wax. It can be used for wooden flooring as well as furniture. The application of this product provides a very high barrier against liquid spillages, usage and staining.
It allows the natural appearance of the wooden boards to shine through whilst offering the highest protective qualities. It provides a matt finish that is relatively straight forward and easy to maintain.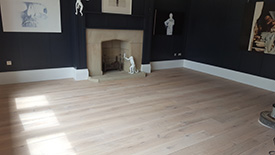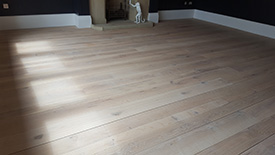 Due to its high resistance ability it is suitable for many rooms throughout your home, even bathrooms and kitchens. That shows the suitability for areas of your home where there is heavy use. It is only an interior finish.
The results of the floor sanding project totally transformed the room. It offered a superior feel and oozed quality and sophistication once we'd finished. The end result really pulled the room together and created a complimentary statement for the characteristic room.
Are you looking for a floor sander with wide-ranging experience? Call 1 Stop Floor Care today on 0800 852 7177.