Advice from a Time-Served Floor Sander
By On February 27, 2017
Under Wood Floor Sanding
We regularly receive enquiries from individuals that are either less than satisfied with their own attempts at floor sanding. Either that or they feel similarly about a floor restoration job completed by another Company.
Either way it is important to remember that there is a clear and concise way in which a floor should be sanded. Some are confident with the intricacies that this process brings and some may approach the job with more hesitation.
Some Mistakes May Include:
1) Selection of incorrect machinery
It is hard to argue that anything can beat the floor sanding machinery available via professional floor sanding Companies. Some of these machines include belt sanders, drum sanders, edge sanders and more, smaller tools. It is important that the correct tool is identified for any particular part of the sanding process.
2) Selection of incorrect products
This is incredibly important as some products are not suited to the floor sanding process. This also extends to the incorrect application of any particular product. Some formulations need to be applied in different ways so it is important that you are aware of this prior to attempting this process. Invest time in researching the best product for your particular floor as this will ensure the longevity of your restored wood floor.
3) Inexperience in the ways in which to sand wood floors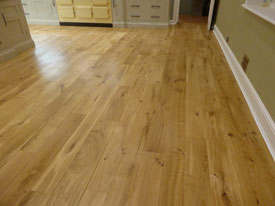 Some machinery requires you to sand in a particular motion. If you use the sander across the grain of the wood boards, damage can be caused and can be expensive to fix. Do not rush to complete the work as this will inevitably produce a poorly finished floor. It is worth taking your time.
Our advice wouldn't be complete without outlining that our professional services for restoring wooden floors is cost-effective. We have vast experience and can complete the job quickly and efficiently.
It really is worth calling us for a no obligation quotation to find out whether we can support your wood restoration project. Call today on 0800 852 7177.