Beech Wood Floor Chadderton
By On June 23, 2015
Under Wood Floor Sanding
We were invited to restore this Beech floor in Chadderton and were shocked to reveal the story of how the floors had deteriorated to the state that they were in.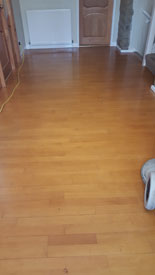 On discussion with our client it was identified that two years prior they had received advice of their painter and decorator that Yacht Varnish would be the best floor product for them. As a result, two years on the wood floor had turned orange and you could no longer see the wood grain.
We were asked to provide our in-depth floor sanding services throughout the downstairs of the property where wooden floors were fitted.
As usual the wood boards were fully stripped back and then coated with a high quality wood lacquer. The results speak for themselves and the clients could not believe how the finish and visibility of the beautiful wood grain could offer such an outstanding floor.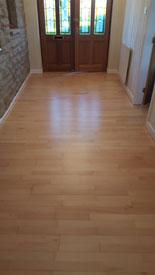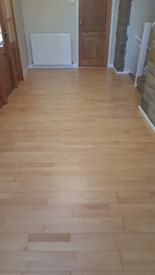 The moral of the story is; use a professional floor restoration specialist and keep the application of Yacht Varnish for your boats!
This again is another example where product choice can play a pivotal role in the result of the restoration process. If an incompatible product is selected it can either cause damage or it can result in an unsightly finish.
Beech Floor Facts:
Beech flooring is a versatile wood; it is light in appearance and works well with a large range of stains and finishes.
Beech is a very strong type of hardwood; this strength means that it offers incredible durability and a beech floor will be a long term investment when treated and cared for correctly.
Beech wood in general does not require a great deal of routine maintenance. Vacuuming or dry mopping the floor on a regular basis will keep it dirt-free.
Our TOP TIP for wood flooring is that any dirt or particles should be removed on a daily basis because any possible damage will likely occur from dirt or other abrasive particles, if left present.

Contact our friendly staff on 0800 852 7177 for more information.