Commercial Floor Sanding Wigan
By On January 15, 2014
Under Commercial Floor Sanding, Wood Floor Sanding
Sanding wooden floors throughout the UK has provided our Company with vast experience in the trade. It has allowed us incredible opportunities and it is great to be able to showcase these on our website. Every job varies greatly and the before and after images of this wood floor sanding job show the stunning change to this beautiful space.
We were invited to complete this job in Buckley Theatre School in Wigan; and what a brilliant job to start the New Year with! We were asked to fully sand and seal 150m² of reclaimed maple flooring.
The wood floor boards were originally taken from a University in Lancaster and relayed in the dance studio. The boards were worn and needed carefully crafted restoration to bring them back to life.
The floor sanding work was complete in 2 ½ days. After the sanding process was completed, it was decided that the wooden floor should be finished with a very hard wearing two pack commercial floor laquer.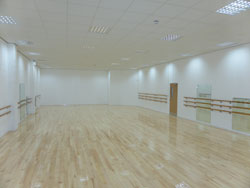 The newly restored maple flooring really did alter the overall appearance of the studio. The images show this transformation; we wanted to show the process from start to finish.
We have wide-ranging experience in commercial floor sanding and have the necessary man-power and industrial machinery to complete the work with minimal disruption to your business.
If you have any questions or would like to discuss the options available we would ask you to call us on 01257 270775; we would be happy to talk you through the process and work hard to offer assurance that you are dealing with the best-served company to restore your wood floors.