Why Wood Floors?
By On September 21, 2017
Under Wood Floor Sanding
Where better to start than the fact that they look great. An expanse of beautiful, natural-looking wood is instantly attractive. Wood floors offer a unique look, made possible by different wood finishes.
This leads on seamlessly to another element that considers that the look of a wood floor can be drastically altered with such finishes. Whether you are looking to make a dark floor lighter, or a light floor darker; the options really are limitless. This means that you are able to select a finish that is completely co-ordinated to the floor's surroundings.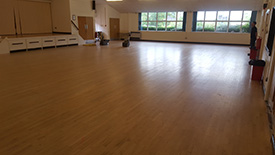 Wooden floors, when looked after correctly last for decades. This means that it is well worth investing in a high-quality product and then learning all you can about how best to clean and maintain it. We are on hand to help with this.
Routine cleaning of wooden floors should be straightforward. There are no ways of stopping deteriorating factors, especially in commercial settings, however, regular maintenance is the key. We were asked to restore this floor in the Kirkham Community Centre.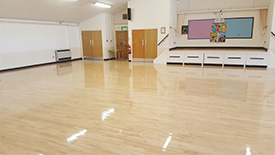 The old surface coatings had aged the floor and it looked lifeless before we stated the restoration process. These were all fully removed to reveal the beautiful natural maple wood floor beneath. All surfaces scratching and dull spots were removed so that when the new finish was applied, it would transform the appearance.
A restored wood floor looks great and offers a more hygienic flooring alternative than something like carpet that filters and holds dirt and bacteria. It also provides a surface that is softer underfoot than stone tiles.
Once the floor sanding project had been completed the natural grain of the maple wood was visible and it really did brighten the hall. Are you looking for a commercial floor sander? Call today on 0800 852 7177. We serve the Lancashire and surrounding areas with comprehensive floor sanding expertise.