School Wood Floor Restoration Liverpool
By On November 21, 2016
Under Commercial Floor Sanding
We often discuss the requirement for commercial properties to look at their best at all times. This offers a cared-for and positive outward appearance. There are many other reasons why wood floors should be maintained regularly.
School floors are unique in their usage. They are used in a multifunctional way to satisfy the individual requirements of the students. This means that the level of foot traffic on such wooden floors is incredibly high.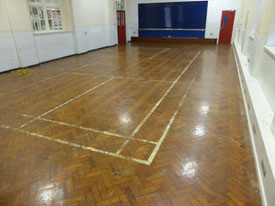 It then has to be considered that students will be using the wood floor with bare feet. Dance classes and other events mean that the floors need to be clean. Other problems such as splintering or flaking finishes can also cause problems for users.
This parquet floor was restored in a school in Liverpool. Over the years the floor had darkened and now really made the space feel gloomy. The wood finish had discoloured and the once crisp lines had faded.
It no longer reflected the professional appearance of the school and so they invited us to survey the floor for restoration. It was discussed that they wanted a light and bright floor. They did not want the hall to feel dark.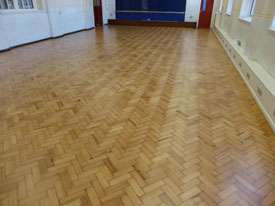 It is often the case that our clients feel passionately about their floor restoration projects. Not everyone wants the expense and disruption of replacement. Alongside this is the heritage of the floor. School flooring is steeped in history, not to mention restrictive school budgeting.
The existing flaking finish was sanded away. The drum sander was used to complete this with the edger for the surrounding perimeters. The true beauty of the floor was revealed at this point and it was possible to see what the finished product could be.
An extremely hard-wearing wood finish was then selected to boost the natural colour of the floor.
If you would like to enquire about our commercial floor sanding services please call today on 0800 852 7177.