Why Restore Wooden Floors?
By On October 16, 2017
Under Commercial Floor Sanding
We often talk about creating incredible transformations. Some of our clients completely transform the appearance of their home or business by restoring their wooden floors. This isn't always the case and isn't always required.
Nevertheless, this doesn't mean that wood floors, after use don't need restoring. We were invited to restore this wood floor in Mawdesley recently. No drastic change in wood finish was required; they just wanted their worn and tired floor to be given a new lease of life.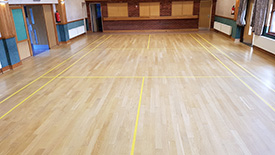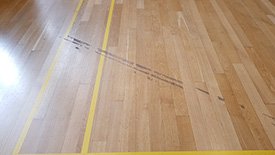 The first images show that the floor had been well-used and that it needed to be fully sanded in order to take the top, worn layers off. Once again, we got to work with our industrial floor sanding machinery.
All of the top layers were sanded back using our state-of-the-art dustless sanding machine. This is the point at which you can see the natural wood underneath. The wooden boards in this state are easily damaged and should always be finished with an appropriately selected wood finish alternative.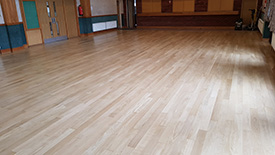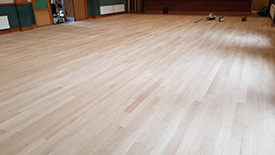 For the type of building this was, it was clear that a hard-wearing finish would be required. The hall is used for many different events and the wood floor restoration work is an investment into the building so needs to offer value for money.
The wood finish products were applied and the court lines replaced. Although there was no drastic change in the floors appearance with regards to colour or finish, the restored floor provided the 'wow factor' nevertheless.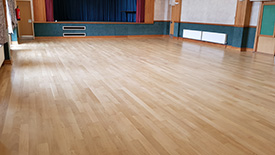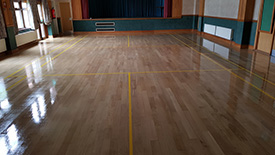 Why Restore Wooden Floors? To breathe new life into your tired and worn out wooden floors!
Once again, it is important that our clients feel confident that they have selected the best Company to complete the work. We are confident that we are the best-served professionals for your floor sanding work so we ensure to provide the best-available service at every opportunity. Contact our friendly staff today on 0800 852 7177.