Wood Restoration Project Buxton
By On April 25, 2017
Under Commercial Floor Sanding
When you are considering restoring your wood floor, it does not necessarily mean that you are looking for a huge change. You may adore the colour of your wooden floor but feel as though years of use and wear have just made it look unsightly.
How does this happen? Damage to wood floors is often heightened in commercial properties due to simple fact that individuals visiting the property do not take their shoes off. All types of contaminants and particles are carried in by people's shoes. These may scratch the surface or they may fall off your footwear and be left on the floor. Someone else then walking over these particles will then further scratch and dull the surface.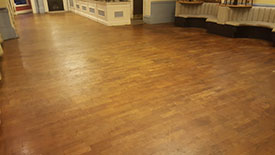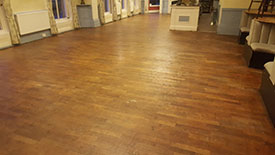 It may also be that larger items are dropped onto the floor. This may cause larger scratches or dents. Either way, it is important that these are not left. Regular maintenance will make sure dirt and particles are removed and unable to further damage the flooring.
We were asked to restore this beautiful wooden floor in the Old Hall Hotel in Buxton. The first images show how damaged the floor was prior to work commencing. The finish had discoloured and the entire floor had suffered a range of superficial and deep scratches.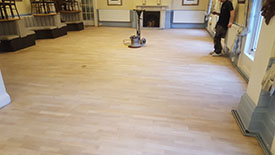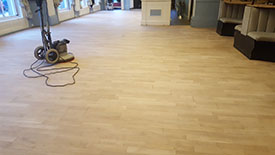 The second set of images show the floor after it was fully sanded and prior to the application of their chosen finish. It is sometimes difficult to believe the actual colour of the floor once the wood finish has been stripped back. The wood, in its natural state was in great condition and we knew, once re-finished would offer great service to this incredible property.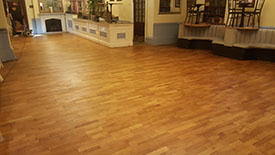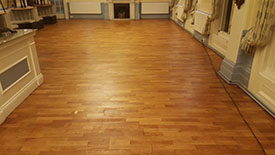 Once the new wood finish was applied and fully dried, the transformation was clear to see. No longer was your eye going to be drawn to the deteriorated state of the floor, but instead the beautiful surroundings. Are you looking for a floor sander? Call 1 Stop Floor Care today on 0800 852 7177.