Concrete Floor Benefits
By On May 25, 2016
Under Concrete Polishing
Many individuals are looking for design elements that they can bring into their home or business premises. Whether it is to create a statement, to improve durability or to simplify the routine cleaning; concrete floors seem the ideal candidate for consideration.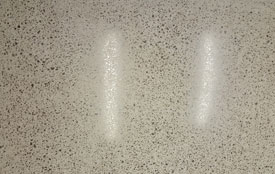 Does a low-maintenance, high impact flooring alternative sound good? Would it match your individual requirements and design specification?
Gone are the days where concrete flooring has the association of cold, clinical or an industrial feel. Welcome to a floor solution that may well become the next best thing for future projects.
So what benefits can a concrete floor offer?
Simple and Straightforward Cleaning
It is always recommended that, as with other floor types, that dirt particles are removed routinely. Due to the nature of concrete this is a simple process and can be combined with a weekly mopping process. The use of a ph-neutral cleaning product should be used and will ensure that the floors remain clean.
Sustainable Option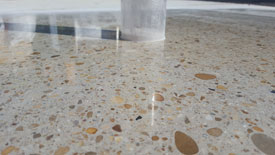 This is an element that most will not consider. Our existing flooring is often laid on top of a concrete slab. This very slab can be sanded down, ground, polished and sealed to create a strikingly refined floor. This therefore means that there is no further consumption of materials and existing ones are used, providing real value.
Versatility
Concrete floors can be stained to create a finish that is individual to its surroundings. Application techniques and colour variances mean that skilled craftsmen can create unique finishes. As with other stone types, concrete can also be finished to a high-gloss or honed surface. This logic can be applied to both internal and exterior applications.
It is undeniable that concrete floors are going to stand the test of time by their very nature. We take the time to discuss your options and the techniques that can be used to produce an exceptional finish. Call today on 0800 852 7177 to find out more about concrete floor finishes available.