Damaged Wooden Floors Lancashire
By On December 21, 2017
Under Floor Sanding
Wooden floors look great. There is no avoiding the fact that they can offer a really sophisticated appearance to any space where they are fitted. This is never more an appropriate saying that when dealing with parquet floors.
Due to the way in which the blocks are laid, their pattern offers real character. They are warmer underfoot than stone and can stand up to general wear and tear. We were invited to restore this parquet floor in Lancashire.
Although the floor was generally well cared for. Some of the boards were in sun light and some were not where furniture and rugs had been placed. This is often fine until the point at which you want to move furniture or swap rugs.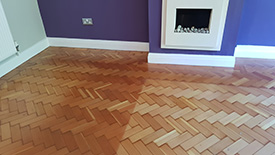 The first image shows a brilliant example of just how dramatic this can be. However, this is where one of the true benefits of wood floors comes in. With our floor sanding services, the floors in this home could be sanded back.
The sun damage only really affects the surface coatings on the wood boards. The sanding process strips back the old coatings and wood finishes to reveal beautifully natural wooden floors. Our client decided that they adored this look and wanted their parquet floor to remain natural.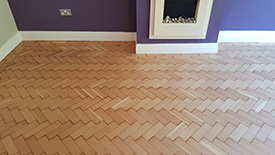 Once again, we used our PALLMANN product range to produce a natural, yet hard-wearing wood finish. Our client was so pleased with the finish. The products work so well with skilfully restored floors. They work to bring out the natural finish, whilst protecting the natural wood underneath.
This floor was part of a larger project in this particular house. Each of the floors were transformed. Would you be interested in requesting a quotation for us to restore your wood floors? Call us today on 0800 852 7177. Our services are competitively priced and completed to our exacting professional standards.