Kelbrook Village Hall Restoration Project Lancashire
By On September 11, 2017
Under Floor Sanding
Village Halls provide an incredible space for the local community. They are a treasured place, frequently used for many different classes and events. These may range from luncheon clubs for the elderly, fitness classes, art classes to toddler groups. This comprehensive list provides evidence of the diverse usage of such a facility.
It also shows the wear and tear that the wooden floor has to put up with. Village hall regular events are often broken down into morning, afternoon and evening sessions. This means that use can start early in the day and finish late in the evening. This really does emphasise the heavy usage that they experience.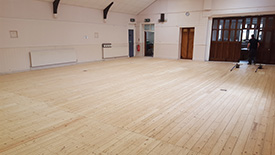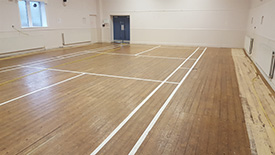 We were asked to restore the Village Hall wood floor. The heavy use had worn down the appearance of the floor and it was in need of our specialist wood floor restoration techniques. Never would you believe the transformation that could be achieved in this space!
The area that we were asked to work on was the main hall. This was the old church school hall and measures approximately 47ft x 32ft. When we arrived, there was a badminton court marked out. After the floor had been sanded it was important that this court was relayed as it was regularly used.
Prior to the floor sanding process beginning, the floor had quite a dark wood finish. While this was offering next to no protection for the natural wood underneath, it was decided that the new finish would have a clear appearance to show off the beautiful natural wood grain.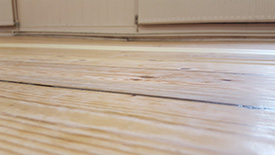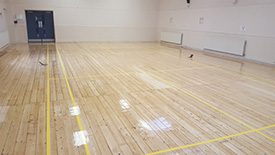 The first image shows the appearance of the floor before our work commenced. Towards the right of the image, the initial part of the process can be seen. The sanding machinery is used in lines to strip back the old layers of finish.
Once the floor was fully sanded, it was appropriately prepared and a wood finish applied. As requested, this offered a lighter and clear appearance, but remained to offer a hard-wearing surface.
Are you looking to restore your hall floor? We feel confident that we are the best-equipped Company to deal with your floor sanding project. Call today on 0800 852 7177.