Need to Know Details about Fantastic Floor Sanding
By On August 25, 2017
Under Floor Sanding
There are many determining factors when considering the cost of reinstating wooden floors. This part of the process is very open and we will discuss all of these elements during the quotation process. Some of these factors may include:
The size of the space
The state to which the floor is in
Detailing of the room that makes access more challenging
The finish required
It is important to consider when you are looking at a room to think about the challenges the space may provide. Smaller rooms can offer challenges such as fireplaces, bay windows, detailed skirting boards etc.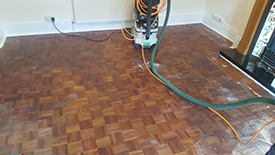 To ensure that a superior finish is achieved it is imperative to reach into each and every corner of the room. Alongside this, all edges must be seamlessly sanded. All of which, whilst protecting every aspect of our client's home or business.
Whilst this is a consideration it is not impossible. Too many times have we been informed of spaces where inadequate effort has been made either to reach the edges of the space or to protect the surrounding boundaries. This is not acceptable and an experienced approach will avoid this.
If there are any challenges that may impact on the finish achieved, it is imperative that these are discussed at the point the work is quoted for. What does this do? It enables our clients to make an informed decision.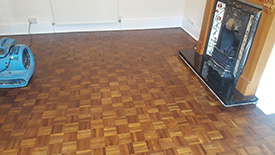 This often plays a pivotal role in the way in which the projects run. It is important for us that our clients are informed prior to the process starting so that they are exceptionally pleased with the results we achieve.
This five-finger block parquet floor was skilfully restored and finished. It transformed the small space and added further character to a beautifully unique space. Parquet floors are full of character and their history within the home can be treasured for many years. Once restored they can be cleaned routinely to make sure they offer many more years of service.
Are you looking for a floor sanding expert serving the Lancashire area? Call 1 Stop Floor Care today on 0800 852 7177.