Parquet Floor Sander Lancashire
By On September 3, 2016
Under Floor Sanding
It is sometimes assumed that Parquet floors are one of the best types of wood floor available. Reasons why this could be assumed is because it is more expensive to install or may be due to the finished look.
This wood type was said to be created to satisfy the needs of a niche market who wanted to produce geometric patterns. Parquet flooring is steeped in history and has come on so far to this day, however, still manages to ooze sophistication and heritage in its appearance.
There are many design patterns that can be achieved and time invested into finding the best solution for you will pay dividends once completed. The Herringbone design is likely the best-known design, however, the way in which the lozenges or blocks can be put together means that a completely bespoke floor can be arranged.
If you come across a Parquet floor in the UK it is likely that its history stems from the Edwardian times. Another benefits of parquet blocks is that it offers a great facility to repair individual lozenges if required.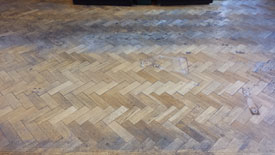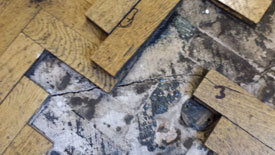 Our specialist floor sanding services were requested to restore this beautiful Parquet floor at the Carlisle Magistrates Court.
There were areas that required careful repair; it is vitally important when taking this on that you are able to repair only the damaged blocks, to keep the surrounding boards safe from damage and to ensure that the finished result is as seamless as possible. Any wood repair should go unnoticed.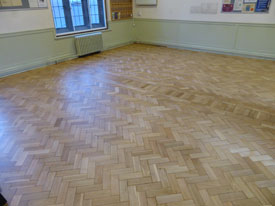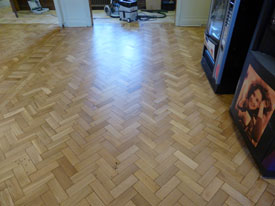 The images show the stages to which the wood floor was restored. Any wood repairs are completed first and then the entire floor is sanded with our dust free sanding system.  The end results achieved a long-lasting finish and the areas that were repaired when undetected!
If you would like to arrange for us to provide a survey to restore your wooden floor please call today on 0800 852 7177.