Respectfully Restoring Wood Floors Birkenhead
By On August 29, 2017
Under Floor Sanding
A floors heritage is really important to a lot of people. Too frequently is it heard of that individuals are wasteful. This wastefulness extends to their homes and elements within their home including their floors.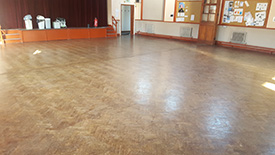 Some people view damaged floors as past redemption. Without specialist knowledge, informed decisions are not possible. Did you know that some of the most damaged wood floors are able to be fully restored to a newly-laid appearance?
We were invited to restore the floor throughout the Bromborough Methodist Church in Birkenhead. This is a beautiful building with incredible heritage. Prior to work commencing, all elements of the project were discussed. This included the floor sanding process with an agreed wood finish.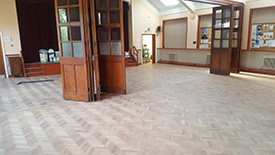 This all forms part of the comprehensive preparation that takes place prior to a job starting. What else is required? The entire space needs to be cleared; any items on the floor need to be removed and put in a safe place.
The first image shows how the surface coating had been damaged. This effectively means that the natural material underneath is open to the elements. Any spillages or wear quickly offers further damage. Whilst this is a sliding scale, this floor was in a particularly poor state.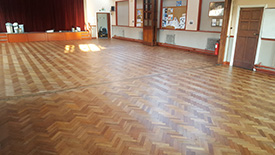 Whilst we would strongly advise that wooden floors are not left to deteriorate to such a level, we were pleased to offer help to breathe new life into it. The floor was successfully sanded with all old wood finishes being removed to reveal a primed surface.
The wood finish was then applied which offered the final transformation. There were many areas of this project that provided challenges. This often comes as part of the room details. These elements bring character and allow us the opportunity to showcase our true expertise. Are you looking for a reputable floor sander serving Lancashire? Call today on 0800 852 7177.