Restoring Parquet Flooring Bury
By On December 26, 2015
Under Floor Sanding
Parquet floors have seen a resurgence over recent years. This has provided us with a brilliant opportunity of seeing this exquisite wooden floor in many different domestic settings.
Whilst any restored wooden floor looks spectacular, Parquet flooring provides a real statement. It may be that you are familiar with the history of your floor or it may be that you have just revealed it during a building project.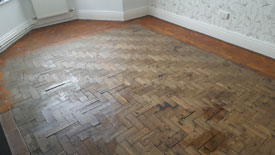 Either way, once discovered it is often the case that wood restoration is looked into in order to get the best from the floor.
The images show a Parquet floor in Bury that we restored. When we visited to complete the floor survey our customer believed that the flooring was beyond redemption, but wanted us to confirm whether it would be possible.
They had decided that if restoration was not possible or that the end result was questionable because of the deteriorated state of the boards, that they would have the entire floor lifted and replaced with another type.
We discussed the process of floor restoration in detail; we outlined that each of the loose blocks would be refitted. The entire floor would then be fully sanded, all gaps filled and then finished.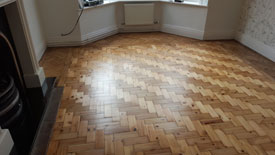 The wood finish selected was a hard-wearing floor lacquer. Our client commented on how pleased they were with the finished product.
"From the moment I met Ian from 1st Stop Floorcare I knew we were in the hands of an expert! His knowledge and enthusiasm for restoring our floor was exceptional. He gave a detailed description of how he would be able to renovate our floor and advise on the best techniques to meet our requirements. I'd thoroughly recommend Ian and his co-worker Dave for any flooring restoration job. Professional, tidy, competitively priced"
James Egersdorff
If you would like to arrange a quotation for the New Year please call today on 0800 852 7177.