We are Proud to Use Pallmann Products
By On November 28, 2017
Under Floor Sanding
We have always been fastidious with our product selection. With any wood floor sanding project, careful product selection is the key to a successful and long-lasting restored wood floor. So many other products offer benefits but through our experience we confidently now only use Pallmann products for our wood floor restoration work.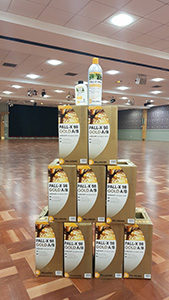 We are proud to be a Pallmann registered contractor. What does this mean? It means that we have been trained to use the products correctly. We continue to be re-assessed in order to monitor the finishes we achieve.
Furthermore, this allows us to offer warranties on the finish of your wood floors. This is a huge incentive for our clients as it offers assurance that their finish is guaranteed.
Alongside training for all of our operatives we also had to provide at least three written references from our clients. The initial training is then further cemented with a professional development course and reviews of what had been previously taught. This is then repeated every twelve months thereafter.
Pallmann guidelines are rigorous and are made that way for a purpose. Any Pallmann contractor is tied to using the 'Good for Wood' system products. This commitment shows how highly we regard these formulations.
The range is incredible and really does cover absolutely every aspect of the wood floor sanding and restoration process. The finishes we achieve are therefore superior to jobs where other products are used.
Did you know?
To ensure that all work carried out meets the highest standards, Pallmann is allowed to audit at least two randomly selected job sites per year. All of this provides existing and future clients with added assurance.
Are you interested in requesting a quotation for us to restore your wooden floors? Have you got questions about Pallmann products? We would be happy to assist. Please call today on 0800 852 7177.