Pitch Pine Parquet Transformation Birkenhead
By On July 17, 2017
Under Parquet Floors
It is undeniable that pitch pine parquet is a timeless option for a flooring alternative. Pitch pine is generally identified as a harder, heavier pine. It is used in many settings, however, seemed incredibly popular in commercial buildings.
Some of these are typically schools, churches and halls. They provided a hard wearing, yet striking alternative and managed to outlast many other materials.
What are some of the characteristics of Pitch Pine?
This type of wooden floor is identifiable by its pale golden yellow colour
Don't forget that older, more, slower-grown alternatives may be deeper in colour
It is extremely strong and heavier than other types
Pitch pine offers shock resistance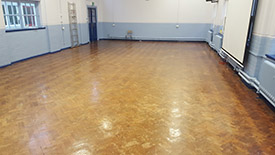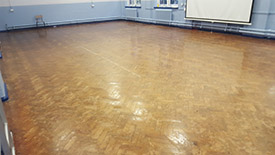 We were asked to fully restore this beautiful pitch pine parquet floor in Birkenhead. The first images show the level of surface damage when we arrived. It really had lost any of its attractiveness and was in need of our help.
The old surface coatings had not only discoloured but it had lost any ability to protect the wood below. It looked patchy to the eye and unsightly. As we always say, it did not provide the right look for the setting.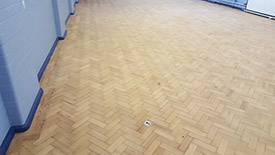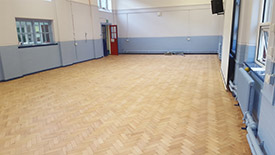 All of the old finish was removed during the sanding process. Once again, a beautiful natural wood was revealed. The grain pattern of this particular floor was incredible and it because identifiable how well the flooring had worn through heavy use over the years.
An appropriate wood finish was selected to ensure the surface was hard-wearing. Product selection is incredibly important. We are confident in our ability to select the best products for each and every step of the floor restoration process.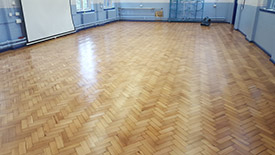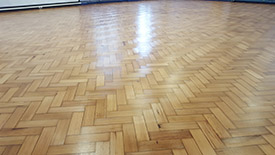 The school hall wooden floor was transformed and a beautiful, natural grain was left to shine though. The floor was well-protected and we offered advice on how best to maintain the floor. Please contact our helpful staff today to arrange a quotation for your floor sanding project on 0800 852 7177.