Floor Restoration in St James Church Prescot
By On January 18, 2018
Under Wood Floor Sanding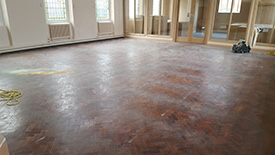 So many churches offer beautiful and traditional wooden floors. Many of which are well worn because of the way in which they are used. They all boast amazing heritage and it therefore offers great reward to carefully restore them.
The following information has been put together in order to outline key aspects you should consider before restoring your wood floors:
Select Your Company Carefully
Our services come with time-served experience and use of the very best trade machinery. Dust free floor sanding offers a superior service and finish and it is only the best-served Companies that use this provision. We are always happy to discuss previous work we have completed and details about your anticipated work. Our transparent and open approach always works to offer assurance to our clients.
Ask About How the Floors Will be Restored
As with many other things, the level of restoration will depend on the deteriorated state of your wooden floors. It may be that a full restoration is not required. On the other hand, it may be that a range of wood repairs is needed prior to sanding the floors. Either way it is imperative that you are confident you are receiving the right service. Therefore, we take the time to discuss the work that we feel is required and ensure that it meets your individual requirements and expected results.
Think About Your Selected Wood Finish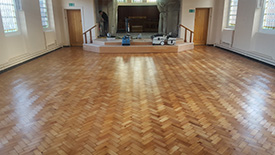 It is true that there are many wood finishes available. Don't feel daunted by this and ask for our help if you are unsure. We will offer information and advice that is completely tailored to your floor. You may be looking for a change or you may just want your beautiful wood floor to be restored, but with a similar wood finish.
We skilfully restored this wood floor in St James Church in Prescot. The images show how worn the floor was when we arrived and the beautiful finish we were able to achieve. The floor looked like new! Call to enquire today about our wood floor sanding services on 0800 852 7177.